What I Learned Buying Beef Jerky on Jet.com
The future of retail has arrived, and it looks a lot like me spending too much on shipping.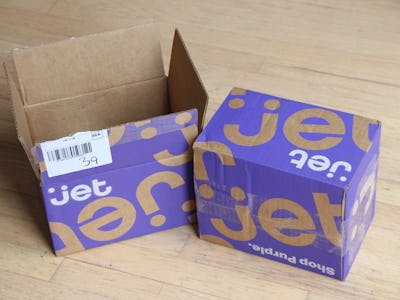 The long-awaited online retailer Jet.com, the latest in a long line of challengers to Amazon's throne, officially launched today. Jet is already claiming to have the "lowest prices on everything," which means both that its entire business strategy revolves around undercutting Jeff Bezos and that its execs, including Quidsi alum Marc Lore, aren't screwing around. Going cheap is a risky strategy, and Jet has already had to assume huge losses, but that hasn't stopped investors from pouring some $225 million into the company in hopes of wresting some retail space back from Seattle. And then there is the actual experience of using the site. It's weirdly compelling.
On the surface, it's a glossier, friendlier version of the retail behemoth, selling everything from beauty supplies to backyard fireplaces, and it doesn't just offer lower prices — it also claims to offer additional savings by letting customers waive returns and buy things in combination for even bigger discounts. Intrigued, I decided to try it for myself.
But browsing the Jet inventory isn't easy. Everything is organized into very specific categories that you have to access through a drop-down menu. For example, I couldn't just browse "books" in general — I had to go through books strictly on "Arts and Entertainment." And these were the first books that showed up. Entertainment-y, sure, but huh?
Jet offers only a fraction of what Amazon's got in its inventory at the moment, but this feels like going through the discount bin at a dollar store. Maybe books aren't Jet's strong point.
Switching to food, I click on the section marked "Fruit and Nut Spreads" and find a subsection devoted entirely to marshmallow spreads. Tickled at the prospect of ordering marshmallow fluff online, I click the link, only to have my heart broken by the following message.
Maybe it's just my shopping choices, but so far, my first Jet experience hasn't been all that great. Finally, I click on the section "Jerky and Dried Meats" and sort by price. The first thing that comes up is something called "Primal Strips Jerky Vegan Seitan Thai Peanut 1 Ounce," which sounds terrible and intriguing, and costs $1.38, which Jet tells me is the exact same price Amazon is offering. On top of that, I get 26 cents off my order just by adding it to my cart. Score one for Jet!
According to their explainer, they use a pricing algorithm to find the best deals online, and they only profit on membership fees. The membership scheme is meant to mimic that of Sam's Club or Costco. Right now, they're offering a three-month trial for free.
I'm disappointed that I'm not offered the option to bundle my Primal Strips with another product for a bigger discount. In the info video, Nanjiani explains, "It's like a game. You add peanut butter, it lowers the price of jelly," but apparently it doesn't apply to obscure meats. At checkout, I don't get the choice to waive returns, either. It's unclear whether that's because they can't accept returns on food (or food adjacent) items or because, at $1.38, my cart total is stupid.
When I finally do check out, I get an additional 1.5 percent off my total because I'm using a Visa credit card. I can see how, if you manage to qualify for all the discounts, your savings might actually add up. Where Jet gets you, however, is with shipping — free shipping is only offered on orders over $35, and there's a flat fee of $5.99 on anything under that. That means it's going to cost me $7.11 to get my one-ounce piece of not-jerky to my apartment.
To add bad time management to shipping injury, Jet made me sign up for a membership account before I could check out, so I'm now all set to give it another go. It's obvious that, by offering membership, secret discounts to unlock, and opportunities to get cash back, Jet's trying to build a base of customers that'll keep coming back. And thanks to their sizable discounts, they might actually succeed, but if they really want to compete with Amazon, they'll need to focus on inventory — and jerky drones.