Chill California Has Already Met Its Renewable Energy Targets for 2020
And they're not stopping now.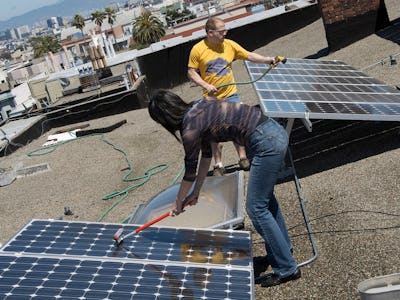 Brian Kusler / Flickr
California's carbon emissions are down 13 percent from their peak in 2004, according to new data released this week by the California Air Resources Board. You can thank Arnold Schwarzenegger.
Back when the Predator and Jingle All the Way star was California's governor in 2006, he signed into law State Assembly Bill 32, requiring that the state reign in its greenhouse gas emissions back to their 1990 levels by 2020.
Based on the new analysis by the state's Air Resources Board, California succeeded in that target back in 2016: the total for carbon emissions in 1990 was about 431 million metric tons, and it's come back down to 429 million metric tons in 2016.
Schwarzenegger suggested on Twitter, Wednesday, that other states should follow their lead.
The next step, according to a statement from California's current governor, Edmund G. Brown Jr., "is for California to cut emissions below 1990 levels by 2030 — a heroic and very ambitious goal."
Specifically, the state is shooting to reduce emissions to below 40 percent of their 1990 levels by 2030 — as mandated by a more recent piece of legislation, Senate Bill 32, signed into law in September of 2016.
Their plan for making these reductions has always been complicated — very, very multi-pronged affair. In addition to a typical carbon-tax and a Cap-and-Trade Program, the state has its Renewables Portfolio Standard, the Advanced Clean Cars Program, the Low Carbon Fuel Standard and other super-specific and highly targeted programs: the Short-Lived Climate Pollutants Strategy, the Sustainable Communities Strategy and the Sustainable Freight Action Plan, etc.
There's clearly been some notable successes from all these: Thanks to the Low Carbon Fuel Standard, for example, a record number of vehicles in the state run on biofuels, totalling 1.5 billion gallons-worth in 2016. And incentive programs have grown the solar electricity sector by 33 percent in 2016. But, some independent policy makers are skeptical of the dent all this effort is actually making.
As energy economist Severin Borenstein of the University of California, Berkeley, recently told the Sacremento Bee, one of the most significant factors lowering the state's greenhouse gas emissions was actually just the 2008 financial crisis and the ensuing economic downturn.
"That's probably the biggest piece of why we hit the target," Borenstein said.
On top of that, California faces some unique hurdles to its 2030 goal in the form of greenhouse gas emissions that are released due to the effects of climate change already experienced by the state — things like protracted droughts, more severe wildfires, and earlier seasonal snowmelts.
Getting down to 40 percent of their 1990 levels, or from 429 to 260 million metric tons of emissions isn't going to be easy. It would be a heavy lift for anyone, even the former governor — who you understand, of course, spent his youth as a professional body-builder and, in his prime, could bench 520 pounds and deadlift 710 pounds.