SpaceX Shares "Before" and "After" Photos of 'Mr. Steven,' Its Fairing Boat
One of SpaceX's weirdest pieces of technology just grew in size.
by James Dennin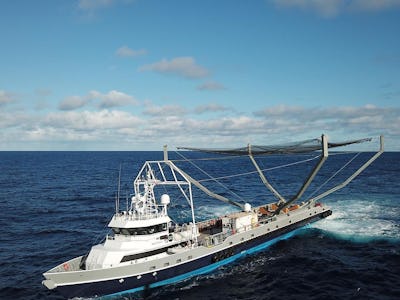 Elon Musk/Instagram
SpaceX appears to have finished its latest round of upgrades to Mr. Steven, a massive recovery vessel with the important mission of catching Falcon rocket fairings as they fall back to Earth after launches. Fairings are pretty expensive — $6 million a pop — making their recovery a key win toward a future with reasonably economic space travel.
Previous attempts to recover the fairings — which protect the rocket's payload as it blasts through the atmosphere — have been unsuccessful, prompting SpaceX to look into expanding the vessel's net. According to the company's recent announcement, the new net is about four times as large and will hopefully see action in a few weeks.
Catching and reusing rocket fairings has proved to be a bit "tricky" as Musk put it in a recent tweet about the upgrades.
For one, the fairings are moving pretty fast by the time they get to sea level, about eight times the speed of sound. A guidance system, thrusters, and a deployed parafoil are all supposed to help slow the fairings down and help them find their proverbial catcher's mitt. The new and improved net will hopefully close the gap between vision and reality.
SpaceX has been moving fast to install the upgrades: Teslarati reported earlier this week that the new arms to hold Mr. Steven's massive new net were installed within 48 hours.
The goal is to have the new vessel ready in time for the Iridium-7 Falcon 9 mission scheduled for July 25.
SpaceX has high hopes for Mr. Steven, here's hoping the new recovery vessel is up to the challenge.