People Are Finally Starting to Take Mass Student Debt Forgiveness Seriously 
Is it time to forgive the debt?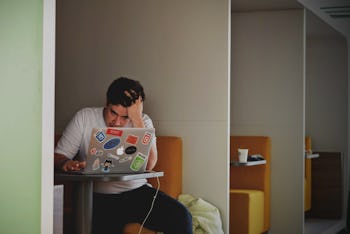 Unsplash / Tim Gouw
TruTV's latest quirky new offering is a game show where recent grads compete for a chance to have all or part of their student loans paid off. If the idea of watching members of our generation duke it out on live television for a chance at debt-free life seems a little dark, that's kind of the point, according to host Michael Torpey speaking to NBC.
Lots of the reactions were on the "too real" side. But there's also the possibility that the problem of student loan debt — like other impenetrable economic dilemmas — can benefit from its satirical moment. David Bergeron a former acting assistant secretary for postsecondary education, tells Inverse it's okay to laugh at our hilariously bad economic fates as long as we're taking the underlying issues seriously.
"We can laugh about things that are serious issues," Bergeron said. "But there's a lot to be serious about."
Bergeron knows the stats, and the stats are pretty bad. He said he estimates between 20 percent and 24 percent of student loan borrowers are in some form of distress, whether they're a bit behind on their loan, in delinquency or experiencing the more serious default. Perhaps most alarmingly, that number will go up as many of the cohorts we have good data on haven't really aged yet (meaning no kiddies, medical debt, or labor disruptions to put them off track).
It's Time to Get Serious About a Student Loan Jubilee
The dual problem of rising student loan debt and rising defaults has more and more experts in the higher education world taking the idea of massive debt relief more seriously. Almost everyone Inverse spoke to for this story, for example, was familiar with a recent paper by the economists Marshall Steinbaum, Stephanie Kelton, Scott Fulwiler, and Catherine Ruetschlin which argued that cancelling the student debt — all $1.4 trillion of it — would add billions of dollars to the economy by freeing up young people's capital to buy homes and start businesses.
"The student debt program is a failed experiment," Julie Margetta Morgan, Roosevelt Institute fellow and former education policy adviser to Massachusetts Sen. Elizabeth Warren, tells Inverse. "Policy makers misunderstood how the labor market would respond, how college costs would expand when we instituted the program, and yet we continue to say it's the individual's job to get us out of debt."
Bergeron said that though some of his colleagues in higher education on the right remain credulous, it's time to start the idea of student debt cancellation seriously. Like Margetta Morgan, he described student loans a failed experiment in the way we finance higher education.
"Fundamentally, as a first order, we should forgive it all," Bergeron said. "This was a cruel experiment in using debt to get students to do what we want them to do, and when the experiment fails, you have to make the subjects whole."
It's also particularly hard to see how the debt crisis will improve under the current Department of Education's leadership. Most recently, the agency broke with decades of precedent by halting its policy of sharing student loan data with state Attorneys General. The fear is that without that info, the class action, state and Federal lawsuits that have thus far held (or tried to hold) the companies that process student loans accountable will stop. That could in effect make it open season on already vulnerable borrowers.
Tips for Holding Your Student Loan Servicer Accountable
With roughly $1.3 trillion in loans on its books, it's not much of an exaggeration to describe the Department of Education as a massive bank with a little government agency attached. Of course, they're not a bank, so they contract all that loan management to servicers like Navient or Nelnet, the fun group of people who hit you up for cash every month. Brianna McGurran, the student expert at Nerdwallet, told Inverse that errors aren't uncommon, particularly as they pertain to relief programs like Public Service Loan Forgiveness, which can be complicated.
"You can't always count on your servicer getting it all right," McGurran said. "If you're interested in something like public service loan forgiveness, it is a very complex program, and there are a lot of moving parts."
In addition to making sure you understand the ins and outs of any relief programs you apply for, it's also a good idea to set lots of Google alerts for your servicer's name. That way, you can keep a closer eye on all the bad things they get caught doing, and be first in line when awards and settlements are announced.
Even borrowers in good standing should be holding their servicer accountable, McGurran said, by making sure their payments are targeting the right loans.
"If you're in a position to make extra payments on your loans, make sure those extra payments go toward loans you want them to go to," McGurran said. "Some servicers will automatically apply your payments across all the loans equally, but if you want it to go to the highest interest or the smallest loan … make sure the servicer is doing what you want them to do."
In the current quagmire, it seems entirely reasonable to simply wish for a system where student loan servicers simply do their jobs without requiring so much legwork from borrowers. But there's also increasing reason to hope for more. As more congresspeople begin clamoring for free college, cancelling all our student debt is an idea that's starting to be taken seriously.