How to Catch Three New Shinies and Two New Alolans at Pokémon GO Fest 2018
Everything you need to know.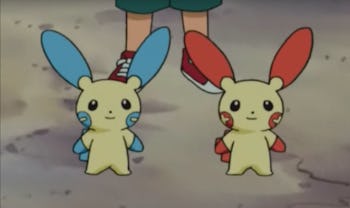 The Pokemon Company
Fans of Pokémon GO will soon be able to catch four revamped Pokémon during Pokémon GO Fest 2018, which will take place from July 14 to 15. Although the event is officially located at Lincoln Park in Chicago's North Side, you'll have a chance to add these newcomers to your team no matter where you are.
Chicago is the just latest destination on the Pokémon GO 2018 Summer Tour. There will be more to come, but for now, here's how you can get Shiny Plusle, Shiny Minun, Alolan Diglett, Alolan Geodude, and maybe even a Shiny legendary Pokémon.
Shiny Plusle and Shiny Minun
Plusle and Minun are often paired up with each other, but it wasn't always that way. Before an update on February 10, the two were roughly separated by hemisphere. Plusle exclusively spawned in the Americas and Africa while Minun could only be found in Asia, Europe, and Australia.
Today, both of them can be found worldwide. Since Plusle and Minun are also the featured Pokémon for the event, this is your chance to catch their Shiny forms. Luckily, they'll also be spawning in much higher numbers than usual.
Alolan Diglett and Alolan Geodude
Diglett and Geodude have been around for a while, but Pokémon GO Fest 2018 will mark the debut of their Alolan counterparts. Like Shinies, there's no performance difference between Alolans and the status quo. The appeal of having one is purely for aesthetics and bragging rights.
If you want catch these guys, you'll have to be persistent and lucky. They can only be found as rare encounters starting on July 14 and can't be hatched from eggs.
Of course, this also means you can get the Alolan versions of their evolved forms. Alolan Geodude can be evolved into Alolan Graveler and Alolan Golem, while Alolan Diglett can become Alolan Dugtrio.
There's no guarantee to get any of these Pokémon, but with tenacity, sunscreen, and the favor of RNGesus, you can be the proud owner of all four. And iff you don't end up catching any of them, you'll still have a chance to capture a Shiny Zapdos if you meet the event's research tasks.
Good luck!