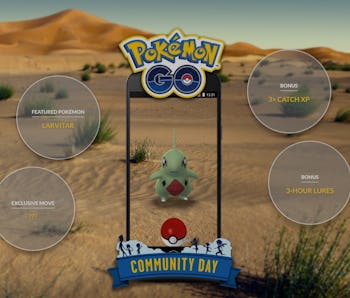 Entertainment
Pokémon GO Community Day: Every Upcoming Event and How to Catch 'Em All
Find out how to snag a rare Pokémon.
Niantic Labs, Nintendo
Charge up your phones and put on your best walking shoes, 'cause another Pokémon GO Community Day is coming. The tiny but mighty Larvitar is the star of the game's sixth Community Day event, one of several in the next few months.
For three hours, Larvitar will spawn in much higher numbers than usual on the event, which will take place June 16 at 2 p.m. to 5 p.m. Eastern. During this time, players will also receive triple the normal amount of catch experience and lures during those last three hours. Like previous Community Days, Larvitars caught during this period can also learn a special move exclusive to the event.
Upcoming Pokémon GO Community Days
Pokémon GO will also be kicking off a series of events planned for June and July, which are listed below:
June 16: Community Day, Larvitar
June 30 to July 1: Safari Zone, Dortmund
July 8: Community Day, Pokémon TBA
July 14 to 15: Pokémon GO Fest 2018, Chicago
The previous Communtity Day, featured Charmander, who had the potential to become one of the most powerful Fire-type Pokémon in the game because of the event-exclusive move Blast Burn. Niantic has yet to confirm Larvitar's exclusive move, which may be called Smackdown, but it's safe to assume it'll make the already powerful Rock/Dark-type Pokémon even stronger.
What to Expect From the Next Pokémon GO Event
New Shiny skins for Larvitar haven't been announced yet, but it's safe to assume they'll make their debut during the event. So far, all Community Day events have released Shiny versions for the respectively featured Pokémon.
Players are also recommended to team up and make new friends. You can do that by checking Reddit, Facebook, or using the League Map on The Silph Road to find a local group of likeminded trainers
For European players, the Safari Zone event in Dortmund, Germany. From June 30 to July 1, players will get a chance to fill in the gaps in their Pokédex at Westfalenpark. You can read more about the event here.