Hollywood Producers Are Already Whitewashing the Thailand Cave Rescue
Why can't Thais be the heroes of their own story?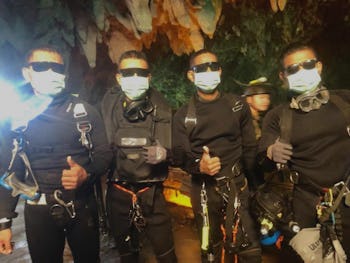 Royal Thai Navy
All 12 boys in the Thai cave rescue have been saved after a daring operation led by local authorities. Now, a pair of Hollywood producers are starting work on a movie about the Tham Luang cave rescue, and spoiler alert, it will star two white dudes in the lead roles.
The rescue involved an international team of divers, but it was spearheaded by the Thai Navy SEALs. One of those divers was Samarn Poonan, a former Thai SEAL who came out of retirement to assist with the operation by laying down oxygen tanks along planned exit routes. It was his final act of service, and he died shortly after completing his mission.
Four Thai Navy SEALs stayed with the last group of boys from beginning to end, and those SEALs barely made it out with their lives when the main pump clearing the water failed. Overwhelmingly, Thai authorities have shouldered the lion's share of efforts throughout this entire operation.
But despite this being a story of Thai victims and Thai authorities working with the rest of the world to rescue their own, Pure Flix CEO Michael Scott wants to center the plot around the two British divers who discovered the boys.
Pure Flix is a Christian film and television studio best known for God's Not Dead starring Kevin Sorbo. Scott said his Tham Luang film will not be explicitly Christian, but broadly inspirational.
"I see this as a major Hollywood film with A-list stars," Scott told Australian Associated Press.
The principal characters in the Tham Luang cave rescue are the boys who were trapped and the Thai Navy SEALs, but it's telling that Scott chose two white divers as his protagonists before even meeting the boys. It speaks to a long history of films where white people take center stage in stories that primarily involve people of color.
When Scott discussed his vision for the film, he referred to the rescue as a "team effort involving Brits, Aussies, Americans, and Thais."
Note how he mentioned the Thais dead last. He also spoke glowingly about the rescue in a Facebook video as an "international effort" where the entire world came together to save "13 kids" (not quite, it was 12 boys and their adult coach). Of course, "international" in Hollywood has always meant a white protagonist with a colorful cast of minority actors. When it comes to setting Hollywood films in foreign locales, "international" casting often means white.
The volunteers involved in the operation came from many countries, but I doubt that Scott would consider the specialists who came from Laos, China, Myanmar, Japan, India, and the Philippines for a lead role.
Pure Flix's movie about the Thailand cave rescue was whitewashed from the moment it was conceived. Apparently, Thais can't be heroes, not even in their own stories.