Elon Musk Responds to Idea Proposing Mini-Sub for Europa Exploration
The submarine could receive a new lease of life.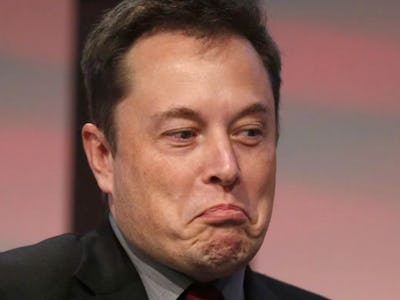 Elon Musk's miniature submarine didn't see any action during the Thailand rescue mission, but don't count it out just yet. On Monday, the SpaceX CEO responded warmly to Twitter user Michael Winslow's suggestion that the kid-sized sub could explore the tiny Europa moon orbiting Jupiter, asking "I wonder what it's like under all that ice."
The submarine, built over the weekend in Los Angeles, was intended to help the 12 boys and soccer coach trapped inside the Tham Luang cave. Everyone was rescued safely as of Tuesday, 17 days after first becoming trapped, and head of the joint command center Narongsak Osatanakorn politely informed Musk that the creation was "not practical for this mission." Musk described his vehicle as "double-layer Kevlar pressure pods with Teflon coating to slip by rocks," acting as "basically a tiny, kid-size submarine using the liquid oxygen transfer tube of Falcon rocket as hull." Musk shipped the creation out to Thailand over the weekend, but the rescue mission instead focused on alternative means.
The submarine could find a new lease of life under SpaceX. The company was started in 2002 as a means of kickstarting a new space race to Mars, currently aimed for a manned mission using the BFR as soon as 2024. It's no secret that Musk has bigger things in mind, pressing for an interplanetary transport system that refuels at strategically-placed stations, transforming humanity into a space-faring species.
Europa could serve as a key exploration point. Musk posted in Twitter in 2015 about how a Falcon Heavy in expendable mode could send a fully-loaded Dragon capsule to Jupiter's moons, describing a Europa mission as "cool." The moon's ice make it ideal for exploration, with researchers theorizing that a warm salty ocean under the ice could contain more than double the salt water content as all of the planet's reserves combined.
First, Musk would need to complete the BFR's test flight. At the South by Southwest conference in Austin, Texas in March, Musk said it could come as soon as March next year.
The submarine could receive a new lease of life.