The Best, Most Cutting-Edge Relaxation App is 10 Times Cheaper Than It Should Be
Mindbliss uses AI algorithms to develop the ultimate wellness routine for you.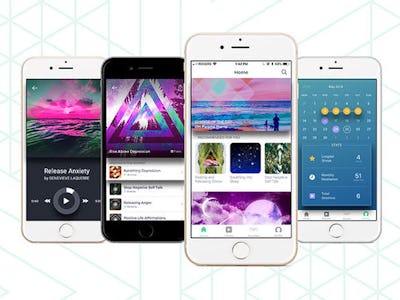 Stack Commerce
It's easy to trick yourself into thinking being miserable is normal, or even important. Sometimes if I'm not outrageously stressed I'm like "Why am I not outrageously stressed? Am I forgetting something I'm meant to be doing right now?" Maintaining a healthy work/life balance, focusing on yourself, or even just relaxing can feel like guilty pleasures. It's time to change that.
Meditation apps are a major industry right now, and for good reason. They provide therapeutic, guided courses on mindfulness, meditation, and relaxation at a fraction of the cost of other methods, and you can use it any time, any place. Mindbliss is easily the most advanced meditation app around, and right now at 88% off, it's the time to see what all the fuss is about.
Inner peace isn't something you achieve overnight. True wellness comes with practice and consistency—two elements the developers at Mindbliss took to heart when making their on-the-go meditation tool. Designed to grow alongside you, Mindbliss uses highly intelligent AI algorithms to curate meditation experiences that fit the needs of your practice. Whether you're trying to sleep better, decompress, or just start each day with your best foot forward, Mindbliss helps you come back to center with single-sit meditations and serial sessions that span five to nine days. You can build your meditation habit using the app's progress tracker and experiment with seven different meditation categories. This is an app and a habit that will expand and adapt with you over time, with guided meditations for whether you're sitting in a dark room trying to forget the world, or walking through a busy city.
Right now, our pals at Stack Commerce are offering lifetime Mindbliss Access for nearly ten times less than it's worth. A one-year subscription to the app usually runs $89.99, but that's down, too, to $29.99. If you're looking to maximize your savings and become an ultimate zen master of being chill, you can get Mindbliss and all its updates forever for just $49.99, down from $495.95. That's a lot.