'Pokémon GO' Brings Back a Fan Favorite From the Original TV Show
But you can only catch them for a limited time.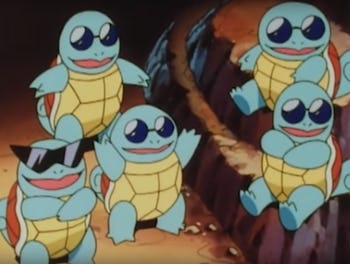 Nintendo, The Pokemon Company
We already knew that July Pokémon GO Community Day would feature Squirtle, one of the iconic starter Pokémon from the original Gameboy classic Red and Blue games. Now, Niantic has upped the ante.
Players will also have a chance to encounter Squirtles wearing sunglasses. That's right, you'll be able to build your own Squirtle Squad.
On July 8, Squirtle will be spawning at a much higher rate from 2 p.m. to 5 p.m. Eastern. As with previous events, Niantic has thrown in numerous buffs and bonuses to incentivize participation. Lures will last for three hours and eggs will only require one-fourth of the usual walking distance to hatch. However, keep in mind that the walking bonus only applies to eggs placed in incubators during the event. Any eggs put in incubators earlier won't be affected by the bonus.
But what about catching a badass Squirtle with sunglasses? Well, to do that, you'll need to complete field tasks. MountainDuck from The Silph Road subreddit made this very helpful guide for field research encounters in the month of July.
The July Community Day is your also only chance to catch a Shiny Squirtle, which will spawn randomly in the wild. If you catch a Squirtle and evolve it all the way to Blastoise during event, it will also learn the exclusive move Hydro Cannon. Like the Shiny Squirtle, Hydro Cannon can only be acquired during this Community Day.
And that's all you need to know. Be sure to bring some sunscreen and your own pair of sunglasses to show any shaded Squirtle that you're a boss worthy of following.