Tesla: Elon Musk Reveals Why Norway Customers Are 'Right to Be Upset'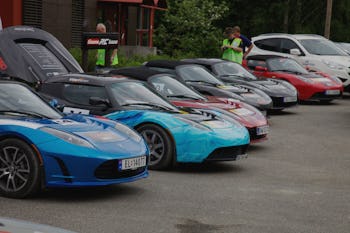 Flickr / Zero Emission Resource Organisation
Tesla is having some trouble in Norway. The European country of 5.2 million people is the company's largest market per capita, thanks to strong incentives and well-developed infrastructure for electric vehicles. Owners in Norway are now complaining about incredibly slow service — and CEO Elon Musk claimed on Thursday they're "right to be upset."
Electrek noted on Thursday that a number of owners have seen incredibly long service times, with Model S 85D owner Aart-Jan van Wijngaarden still experiencing issues six months after first bringing his car to the service center at Kokstad. Tesla runs 11 service centers catering to a fleet of over 26,000 vehicles, and these resources are stretching to breaking point. Musk noted that the company is "having trouble expanding our service facilities in Oslo especially. Can solve quickly with Tesla mobile service vans, but awaiting govt permission to do so."
Tesla tells Inverse that it plans to increase the size of its service team in the country to meet these demands. It's already increased its size by 30 percent, which has already led to a 30 percent increase in throughput. The company is aiming to end the year with a team double the size of last year's, leading to continued throughput growth. Tesla aims to quadruple mobile service capacity this summer — dependent, as Musk suggested, on government approval.
The issues come just around a month after the company reported surging levels of deliveries, shipping over 3,000 vehicles in the first six months of the year, a near-doubling from the same period last year. Last year electric vehicles overall accounted for 21 percent of vehicles on the road, and the majority of new car sales in the country are for electric vehicles.
All eyes are on Tesla's next earnings report, with the next one estimated to take place on August 1. During the conference call, Musk and other senior officials will shed further light on the company's international performance and its ability to tackle situations like these.
If it's anything like May's earnings call, it's likely to feature some surprises along the way.