As Andrew Wheeler Takes Over EPA, Questions Persist on Coal "Action Plan"
Murray Energy claims the EPA is already carrying out its plan.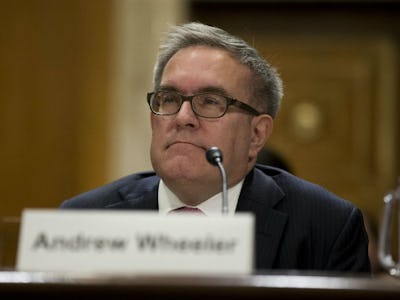 Andrew Wheeler was named acting chief of the Environmental Protection Agency on Thursday after the resignation of Scott Pruitt, who has been mired in scandals and has at least 18 reasons for quitting. Pruitt, an energy lobbyist tasked with implementing President Donald Trump's environmental agenda, was scrutinized for his excessive spending during his tenure as EPA chief. Wheeler, a former coal lobbyist, may not share Pruitt's financial excesses but is tied to a controversial plan drawn up by his former client.
After Pruitt's resignation was confirmed, Wheeler was promoted to the top position from deputy secretary, a role he's held since mid-April. According to Trump's tweet, Wheeler will assume the role of Administrator on Monday.
Murray Energy founder and CEO Bob Murray has said Pruitt was happy to carry out an "action plan" to remove environmental protections and bolster the coal business, a plan Wheeler was asked about earlier this year during his confirmation hearings. As those hearings go, it's typical in that it's a slightly awkward exchange with no resolution. He wouldn't answer questions about the EPA taking its orders from a coal company executive, so they persist as he looks to take over the regulatory agency next week.
In March 2017, Murray presented Energy Secretary Rick Perry with an "action plan" on how to rescue the struggling coal industry, which faces more competitive natural gas prices, incentivized clean energy efforts, and dirty public image. The contents of this plan, which was later made public in a memo addressed to Vice President Mike Pence, sought to "overturn" several safety and pollution rules and fire half of the EPA team, as first reported by the *Washington Post.
It also demands that the commissioners of three independent regulatory agencies "be replaced." Some of its 16 bullet points, such as the request that the United States remove itself from the Paris Agreement, have already been enacted since the action plan was first made public in January:
Eliminate the Obama-era Clean Power Plan.
Withdraw and suspend the "endangerment finding" for greenhouse gases.
Eliminate the 30 percent production tax credit for windmills and solar panels in electricity generation.
Withdrawal from the "illegal" United Nations Paris Accord.
End the electric utility maximum achievable technology and ozone regulations.
Fund the development of "certain clean coal technologies."
Overhaul the "bloated and politicalized" mine safety and health administration of the US Department of Labor.
Cut the staff of the EPA by at least half.
Overturn the cross-state air pollution rule.
Revise the "arbitrary" coal mine dust regulation created by the Department of Labor.
Obtain legislation to fund the retiree medical care and pensions for the United Mine Workers of America.
Overturn the "pattern of violations rule" set up by the Department of Labor's Mine Safety and Health Administration.
Appoint Supreme Court Justices who will "offset the liberal appointees."
Replace members of the Federal Energy Regulatory Commission.
Replace members of the Tennessee Valley Authority Board of Directors.
Replace the members of the National Labor Relations Board.
Murray has since conveyed his elation for Pruitt's tenure as EPA head, bragging that the Trump Administration had already "wiped out page one." Since Wheeler joined the EPA, his connection to Murray Energy and its action plan have come under scrutiny, to which Wheeler responded by conveying loyalty to his former employer and prior commitments.
"What can you tell us about Bob Murray's three-page plan that he claims Scott Pruitt is already implementing at the EPA?" Rhode Island Senator Sheldon Whitehouse asked Wheeler during his confirmation hearing in November. At the time, Wheeler said he did not have a copy of the memo, and when Whitehouse asked if he could get his hands on the action plan, Wheeler cited "client confidentiality" to excuse his silence.
"Well, we also have disclosure interests when you're a candidate for a federal position," Whitehouse responded. "Are you asserting there is attorney-client privilege between you and the Murray Energy Corporation with respect to the three-page plan?" Immediately, Wheeler backtracks his prior response, saying that he "saw it briefly" but could not recall the context of when he received that information or what the document said.
"I think the American people are entitled to an EPA that is not following a coal company's three-page plan but is following wherever the best interests of the American people lead, where the real science leads," Whitehouse said.
Wheeler's insistence on a confidentiality agreement with Murray Energy is striking, especially during a federal confirmation hearing. When Wheeler assumes his new position on Monday, he may avoid his predecessor's lavish expenditures and scandals, but the discourse between he and Whitehouse suggest that his loyalty still lies with his former client.