The Donald Trump "Salt Bae" Meme Is Sadly Ironic for This Reason
Does Trump Jr. even know what Salt Bae represents?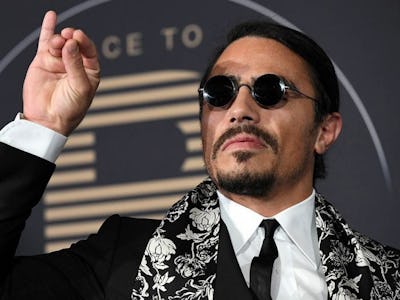 Mohammedhusseinhadifar
Donald Trump Jr. uploaded two memes on Instagram on July 4 of his father, United States President Donald Trump. One of the memes portrayed Donald Trump as the beloved internet icon Salt Bae, which was odd considering what Salt Bae represents.
"Newly discovered footage of Freedom Bae!!!" Trump Jr. captioned the Instagram shared Thursday. "Just sprinkling a bit of freedom for all of us to enjoy this #independenceday weekend. Also continuing my quest to take out pop culture terms."
Nusret Gökçe, or Salt Bae, is from Turkey and proud of it. Turkey's population happens to be 99.8 percent Muslim, a community that Trump and Trump Jr. have repeatedly targeted both verbally and through the Trump administration's immigration policies.
Gökçe was a successful chef even before his Salt Bae video rose to viral fame in 2017, but his road to success was long and difficult. As one of four siblings from a poor family, he dropped out of primary school and become a butcher's apprentice as a teenager.
Even as it pertain's to Gökçe's own success story, the Tax Cuts and Jobs Act of 2017 signed by Trump has gutted the income of America's poorest citizens. Things have become a lot harder for any kid out there dreaming of becoming the next Salt Bae. And perhaps most clearly underscoring Trump Jr.'s ignorance about the man behind the original Salt Bae meme, Trump's White House rejected Turkish visas in 2017.
This isn't the first time Trump Jr. has invoked Salt Bae to promote the Trump family image. In March 2017, Trump Jr. was roasted on social media for the odd way he sits. Trump Jr. responded to his "#haters" by comparing his viral infamy as akin to the ubiquity of the Salt Bae meme — if perhaps missing the point entirely that those are two memes of uniquely different stripes.
Gökçe hasn't yet commented on the appropriation of his beloved viral video for apparent political propaganda, but Inverse has reached out for comment and will update the story if he responds.