Lil Tay Deleted All of Her Instagram Posts and Issued an Ominous Message
What happened to the youngest flexer of the century?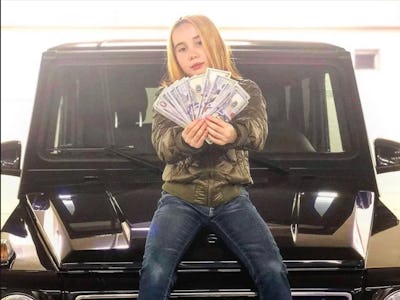 9-year-old Instagram influencer Lil Tay hasn't had an easy ride as the "youngest flexer of the century." Emerging in the wake of the significantly more popular teen rapper Bhad Bhabie a.k.a. Danielle Bregoli a.k.a. "Cash me ousside" girl, Lil Tay amassed over 2 million Instagram followers before reaching peak controversy and quietly fading back into obscurity.
Now she's re-deleted everything on her page and posted an alarming Instagram story that just says "Help me." But before calling Child Services, just remember this Lil Tay's family has a history of faking outlandish stunts for online attention.
How Did Lil Tay Get Famous?
Lil Tay's livelihood is currently under the cultivating eye of Diomi Cordero, an influencer manager and the spokesperson for her and her family. He told BuzzFeed News last month that he was "rebranding Lil Tay," which falls right in line with this vague declaration.
But before Cordero entered the picture, Lil Tay first developed her public persona through a series of foul-mouthed social media posts, public feuds, and the eventual reveal that her older brother was the mastermind behind the controversy.
Her first major appearance was when she got into a near-physical altercation with Bhad Bhabie and fellow "influencer" Woah Vicky in a parking lot — but Lil Tay quickly surpassed Woah Vicky's follower count thanks to her young age.
There were videos of her smoking hookah, kicking a Rolls-Royce, and literally throwing money with equally eye-roll-worthy public figure Jake Paul. People were, understandably, horrified that Lil Tay could exist, let alone be rich and famous.
Then it was confirmed that Lil Tay's mother, a real estate agent, had been fired for allegedly allowing her children to film in luxury homes that were still on the market. Rumors swirled that Lil Tay didn't actually own the cars and money she flaunted, because after all, she didn't have a real career outside of her Instagram account and "flexing." And finally, the YouTube channel #DramaAlert gathered evidence that Lil Tay was being fed lines by her older brother.
After that, the 9-year-old deleted all of her photos the first time, and think pieces about her exploitation abounded.
Lil Tay was no Kardashian, and pretty much everyone was ready to forget about her. Until this latest post, it seemed like the Lil Tay phenomenon was done. While history suggests that the cryptic message could be a publicity stunt, we'll have to wait and see if she and her team will deliver anything more substantial.