'Summer Camp Island' Cures Homesickness With Witches, Yetis, and Aliens
Cartoon Network's newest series will make a camp kid out of you.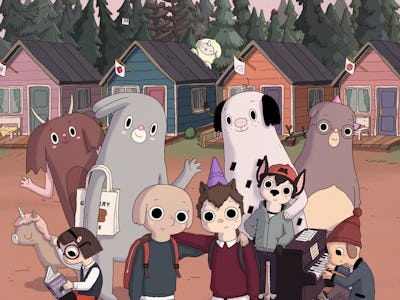 Cartoon Network
There are two types of people: camp kids and non-camp kids. Going to summer camp — spending time making lanyards, s'mores, and friends around a campfire, far away from mom and dad — is a profoundly formative experience that camp kids have trouble explaining to their non-camp friends when each new school year kicks off. Yet, somehow, the creator of Cartoon Network's new series Summer Camp Island nailed that feeling, even though she never went to summer camp herself.
"In England, it's not a popular thing" Julia Pott tells Inverse ahead of Summer Camp Island's Saturday debut (the entire first season is airing, marathon-style, all weekend long on Cartoon Network). Still, Pott recalls fantasizing about going to summer camp as a kid, though the inspiration for Summer Camp Island was born from a more-recent feeling, one that rings true regardless of how old you are.
"I was deeply homesick," Pott says, explaining how her 2012 move from London to New York City after graduating from the Royal College of Art was rough at first. "I really missed my parents and was having a hard time adjusting."
"I wanted to make a kids TV show because I really like how sincere you can be with kids television," she continues. "And I thought 'what's the kid equivalent of homesickness, what I'm experiencing now?' And to me, that was summer camp."
The main character of Summer Camp Island does indeed experience that same homesickness when he's dropped off in the show's first episode. Oscar, an elephant, still has his best friend Hedgehog (a hedgehog) at camp with him, but he's anxious and out of his element when mom and dad's ferry pulls away for the summer. Then the camp counselors reveal they're witches, friendly monsters emerge from the woods, aliens swoop down from the sky, and inanimate objects magically come to life.
If Pott's homesickness sparked the initial idea for a summer camp setting, it was her childhood interests — monsters, aliens, and shows like Buffy and Sabrina the Teenage Witch — that made the camp so strange and, ultimately, rewarding.
"I was, as a kid, so obsessed with spooky things and ghosts and believing that everything could potentially come alive when I left the room," Pott says. "As I got older, I believed that less and less, and I wanted to get back into that mindset of thinking everything is possible."
Oscar eventually warms up to Summer Camp Island and makes the most of his time there, though an earlier draft of the series did have him trying to escape all season.
"Cartoon Network was like 'I don't know if everyone wants to watch the main character just being bummed out and missing his mom and dad all the time,'" Pott says. "Yeah, that's a fair note."
In real life, Pott got over her homesickness too, and this embrace and celebration of scary new circumstances really lies at the heart of Summer Camp Island.
"Leaving your comfort zone is scary at first, but then there's like a five-month window — or at summer camp, a two-day window, because time is different for children — and then you learn the patterns," Pott says. "Change is good."
Summer Camp Island is charming with just the right amount of twee style, but it's clear that Oscar and Hedgehog's adventures are coming from a personal, relatable place. Pott says she's always been drawn to shows like this (Rugrats was a favorite cartoon in her youth, because the babies acted like real people, not just wacky joke-machines), and those instincts were only strengthened during the time she spent as a writer on Adventure Time, perhaps the most influential cartoon of this era.
"The way [Adventure Time creator Pendleton Ward] approaches everything is to come from somewhere personal and then make it poetic, and that was so wonderful to watch," Pott recalls. "Everyone was coming from a really personal space."
That same ethos of imbibing feelings and personalities from everyone on the staff carried over to Summer Camp Island, as did another hallmark of Cartoon Network's output over the past several years. As with Adventure Time, Steven Universe, and OK K.O. before it, Summer Camp Island does have a deep lore and backstory, but there's no rush to reveal that aspect of the series.
"Obviously, there's a backstory as to why the world is like this and the magic of everything. We softly know where everything is going," Pott says, explaining that she and the writers at one point had a big reveal all set for the end of the first season before realizing they needed to push the mythos back.
"It's definitely very intoxicating to do lore, the backstories, why everyone is like this and where everything is going, but then you write yourself into a corner and can only do that," Pott says. "We've been trying to piecemeal it out so slowly because we want to bask in the more character-based episodes."
"Those often turn out to be the funniest. It's hard to spend every episode just explaining what's going on," she continues.
Eventually (though maybe not this season) the mysteries of Summer Camp Island will become a little bit less mysterious. That's what happens when you get to know a new place, even one as initially strange as a magical sleepaway camp. For now, though, Summer Camp Island is about fun, personal growth, and making new friends — even if those friends are literal monsters.
Summer Camp Island's entire 20-episode first season will air on a loop for 48 hours starting on Saturday, July 7 at 6 a.m. Eastern on Cartoon Network and Boomerang.