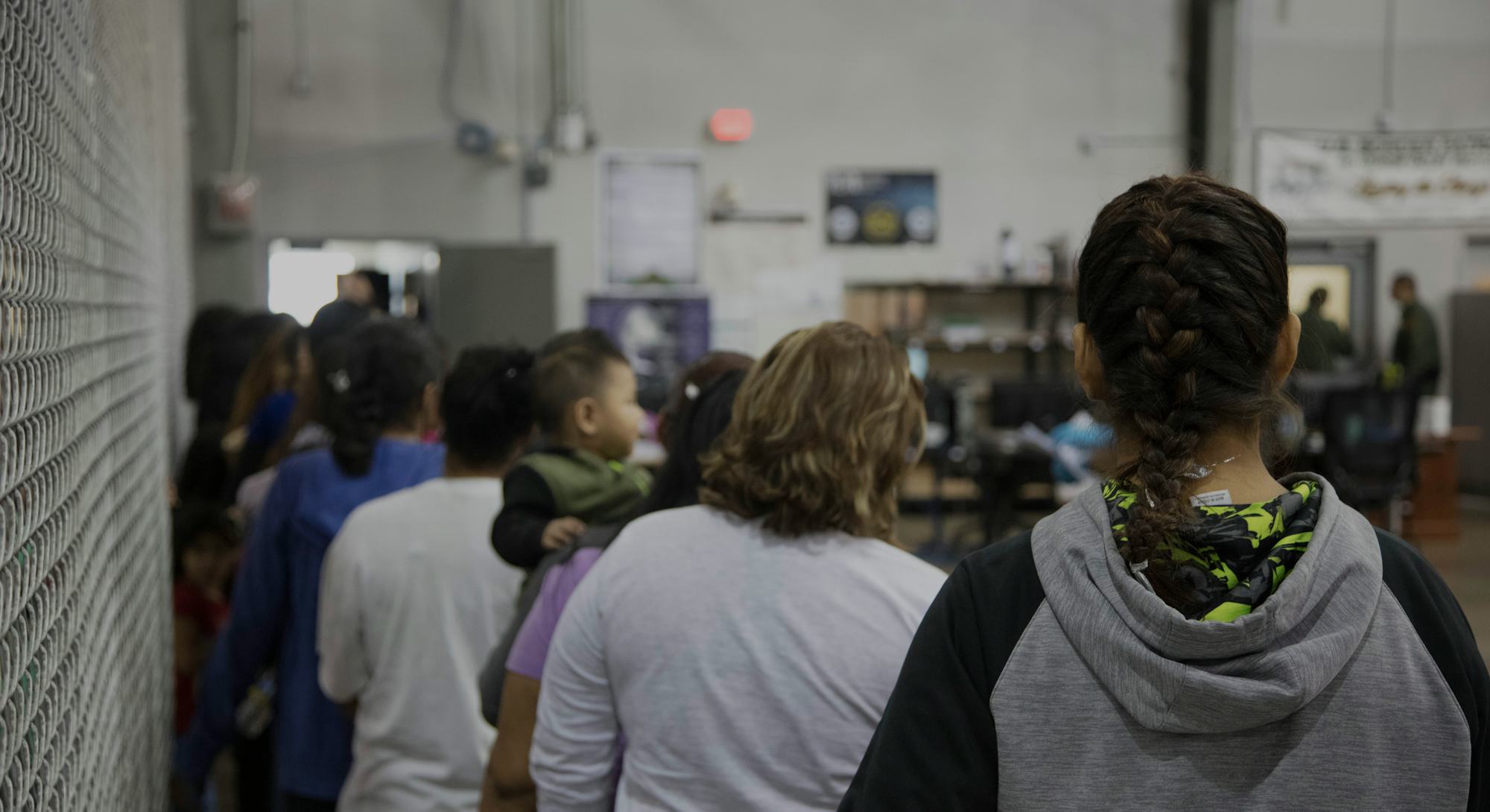 Culture
"I Want a Better Future": Why a Teen Fled Crime in Guatemala for the US 
A future Northern Triangle needs a middle class to keep its young people.
Flickr / CBP Photography
Gabriel Morales turned 18 in February, but unlike many teens in America, he didn't celebrate with zombie tag or a Fortnite marathon. Instead, he spent it in an Immigration and Customs Enforcement detention center in New Jersey.
Gabriel's story is one that's all too familiar: He arrived at the US border alone two years ago, after traveling through Mexico by bus from Guatemala. When he attempted to cross into America, he was detained and later transferred to the Hudson County Correctional Facility in Kearney, New Jersey. "It was a lot of unaccompanied minors between 13 and 16," he says of what he saw when he got there.
Gabriel was arrested in the first month of Trump's presidency. About ten months later, in October 2017, it's likely that he began to mix with boys who had been separated from their families at the border by the US government.
Like many of his cellmates, detention served as the latest chapter in his story of political and personal turmoil. Gabriel is one of the millions who fled their homes in Central America's Northern Triangle — Guatemala, El Salvador, and Honduras — in an attempt to to escape gang violence and economic strife. Of the 303,916 border apprehensions made last year, 52 percent of them were from Northern Triangle countries, according to US Customs and Border Protection reports.
Refugees seeking asylum and a better life have been met with a changing US immigration policy under President Donald Trump that's led to multiple high-profile US immigration scandals; the family separation crisis of this summer being the most recent.
Experts on the region say there's little hope that the crisis will die down in the near future. With Trump's isolationist economic policies, Central American countries in need of economic collaboration will continue to struggle without support that would create a stabilizing middle class. As a result, young people will continue to seek a better life elsewhere, and the future Guatemala of 2038 or 2048 doesn't look bright in 2018.
Totonicapán
Perched 8,200 feet above sea level, Totonicapán was home to the last Mayan ruler, Tecún Umán, who lived from 1485-1524. Today, the city is a hub for Guatemala's agricultural labor force, which comprises nearly a third of the country's workers.
Gabriel's journey, which has now lasted for years, began here. As a teenager, he worked as a farmer in what many view as a picturesque countryside, but the daily wage of $4.67 per day ($7.37 behind Guatemala's official minimum wage of $12.04 an hour for agricultural work) often failed to cover necessities for Gabriel and his six siblings. "There were times where we weren't able to eat or buy clothes," he says.
Economic strife is typical in Guatemala, despite the country's growing GDP and wages. According to the CIA's World Factbook, more than half of its population falls below the national poverty line, and 23 percent of the population lives in extreme poverty. The richest 20 percent of Guatemala's population accounts for 51 percent of the country's total consumption, making Guatemala one of the most unequal countries in the world.
"I want a better future. I want to work and study and make money," Gabriel tells Inverse when asked why he made the long journey for a slim chance at refuge in America. He's part of a larger trend: "In 2013, as many as 2.7 million people born in El Salvador, Guatemala and Honduras were living in the US, up from an estimated 1.5 million people in 2000," reported the Rio Grande Guardian this month.
The Economics of Migration
Ironically, the instability that pushes people from Guatemala and the Northern Triangle toward the US has been significantly shaped by the US government. In 1954, the CIA facilitated a coup to overthrow Guatemala's democratically elected government. The US continued to support the country's autocratic and conservative regimes throughout its 36-year civil war against leftist guerrillas, which killed over 200,000 people.
Dr. Demetrios G. Papademetriou, president and co-founder of the Migration Policy Institute, says this decades-long instability contributed to Guatemala's current economic and political problems:
"Through engagement in favor of autocratic, non-democratic, conservative regimes that were shored up by American power and influence and engagement, we started to have migration in the early '80s," he tells Inverse.
These original migrants from the region accelerated the rate of migration to the US from Guatemala, Papademetriou says. "Once a pathway has been established, primarily by people who either have the means, and by people who are risk-takers, the next group of people find it much easier to walk through to use the same pathway, to make it to a destination that they still think might be welcoming them."
The effect of the conflict-related migration that happened beginning in the '80s is a perpetuating cycle of economic and familial migration, where the factors drawing people to the US from Guatemala are increasing. But even darker forces have added a "push" to this pull.
Gangs that were started in the US, like MS-13 originally drew in wayward Central American immigrants. Those gangs have now been brought back to Guatemala and other countries in the Northern Triangle as more undocumented immigrants are being deported.
"A lot of these MS-S-13 and the other gang members who have been deported systematically and in great numbers to the region of the last decade or so have created opportunities for these people to reorganize themselves, and in a sense, do the same things that they were doing here. which is extortion, killing, and forceful and of younger people," Papademetriou says. "What you have is another contributing factor to the instability."
This gang violence was the last straw for Gabriel, and what he says was the deciding factor in his choice to leave Guatemala for the US. One day, on his way to the supermarket, Gabriel says that gang members came for him: "I was walking to buy something from the supermarket and a group of gang members walked up and began threatening me and saying they'd kill me if I didn't give them my money. It was at that point that I decided to come to the US."
According to the International Crisis Group, a non-governmental organization that studies violence this isn't an isolated problem. It's estimated that there are 54,000 gang members in El Salvador, Guatemala and Honduras who use extortion as their primary money-making method.
According to Gabriel, this violence can have its own effect on the economy, noting that some friends were too scared of gangs to work: "If the gangs know you're making money they threaten you."
While the problems that are causing massive levels of migration from Central America to the US are easily identifiable, they're not so easily fixed. Crime, poverty, and systemic corruption are problems that have existed since Ancient Greece.
Papademetriou says the only hope is commercial engagement with Central American economies: "The way that we hope that we can get out of this sorry cycle of violence is money, but we put a mere pittance there, and that pittance is more directed toward trying to reduce unwanted migration to the United States through state power rather than toward goals that could create jobs and a middle class."
Papademetriou, who was also a NAFTA negotiator, argues that as trade increases and economies grow, populations are able to secure more liberal reforms from their governments and reduce corruption while redistributing wealth. Papademetriou cites Mexico, which just elected leftist Andrés Manuel López Obrador, as an example, but looking at the US, which has consistently become more equal since the 1970s shows that liberalized reforms that accompany economic growth must be intentional and fought for.
"No End in Sight"
The entrenchment of the Trump administration on issues in Central America make the future hard to predict, "unlike 20 or 30 years ago, where we believed that this sort of internal chaos had an end, these countries have come to be defined by there being no end in sight."
Gabriel was released on July 2 after receiving bond money from American relatives. His situation sums up the tough reality that immigrants and policymakers face. Despite calling the politics and policies of the current administration "horrendous," and spending over a year in ICE detention, he's still glad he's in the US.
"I'm relieved," Gabriel told me while waiting in the office of a non-profit for a bus that would take him to California. "It feels better being here, where I'm still able to have my own life and have the opportunity to pursue a better future."
This photo of Gabriel was posted on July 3 on the Facebook page for First Friends of NJ & NY with this caption: "Last night an unaccompanied child from Guatemala was released from Hudson County Jail! A First Friends volunteer picked him up & brought him to the Refugee Lighthouse, where he stayed the night before getting on a bus today to be reunited with family in California. An aspiring artist, he was impressed with all of the detainee artwork in our office. Here he is with volunteer Mike McLean."