The Best AirPod Imitators Are Now 80 Percent Off
Get the Air Bud Wireless Bluetooth Earbuds right now.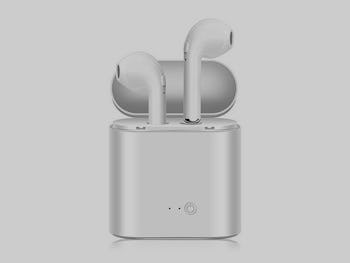 stack commerce
Apple's AirPods look and feel great, sure, but they come with a $150 price tag to match, and sound quality has never been the utmost priority for the company's proprietary listening devices.
The AirPods have also inspired no small amount of imitators vying in the luxury wireless earbud market. Easily the most comparable pair to the brand-name Apple earbuds are the Air Bud Wireless Bluetooth Earbuds, and get this: Right now they're 80 percent off their list price.
Bringing you the convenience of Apple's AirPods minus the sucker punch to your checking account, the Air Buds make wireless listening accessible for everyone. You can stay connected with state-of-the-art Bluetooth 4.2 tech and enjoy crisp audio with minimal bulk. And, with the included charging case, you can bring an extra 10 charges anywhere you go. Ten! The included charging case is the secret weapon, since you won't be taking the headphones anywhere without it, you can practically guarantee you'll be operating at 100 percent charge every time you leave the house, every time you leave work, every time you leave the bar. It's a feat of engineering.
Normally $119—still significantly cheaper than the Apple offering—the Air Bud wireless headphones are currently on sale for just $22.99. Get it while it's good; this deal won't last long.