Video Captures Harrowing Rescue Attempts for 12 Boys Trapped in Thai Cave
The boys were missing for nine days.
by Catie Keck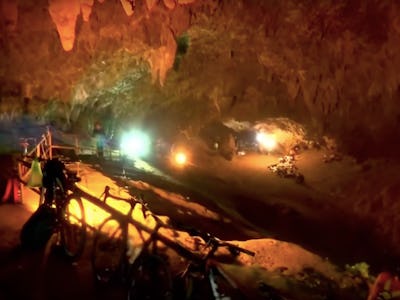 CBC News
After more than a week of exhaustive search, 12 boys and their soccer coach were found alive this week in a cave in northern Thailand. Reports on Monday said the boys had been missing since they entered the cave on June 23, and rising flood waters and heavy rains have complicated the rescue mission for the 13 individuals.
Video of the rescue effort at the Chiang Rai province's Tham Luang Nang Non cave, which is located near a field at which the team practices, shows the exhaustive effort of what some reports have estimated to be around 1,000 personnel involved in the search. UK-based expert divers and more than a dozen US air force specialists joined Thai police and military officials searching for the team, The Guardian reported on Monday.
While specifics about why the team entered the cave remained unclear at the time of publication, Thai PBS reported on June 25 that a sign at the cave's entrance prohibits entry without permission from park officials:
Mr Kamonchai Kotcha, director of the Office of Conserved Area in Chiang Rai, said that the cave is not open to the public and anyone who wants to get in must first notify park officials, especially during the rainy season when the cave can be flooded.
The boys were found "safe" and with "signs of life," according to Chiang Rai Governor Narongsak Osottanakorn, but there is still much work to be done before the 25-year-old coach and boys — all aged between 11 and 16 — can be freed. Reuters reported on Monday:
The divers from a Thai navy SEAL unit were within 500 meters of a chamber containing an elevated rock mound, nicknamed "Pattaya Beach" by cavers, which could have provided the boys with a refuge when rains flooded the cave, blocking the way out.
As of Monday, rescuers were focused on widening the space necessary to allow divers to pass through with their air cylinders.
"These are challenging conditions and there's a lot of consideration for safety as well as, the environment outside is contributing to the environment inside," Jessica Tait, a US air force captain involved in the rescue mission, told The Guardian. Torrential rains have reportedly thwarted the divers' attempts to enter the cave, and Narongsak said rescuers above ground are currently searching for other ways into the cave, The Bangkok Post reported Monday.
"We are exploring 11 potential shafts today," Narongsak said, according to The Post. "The deepest one is 200 meters [roughly 656 feet]. If it goes down through, we will be very lucky."