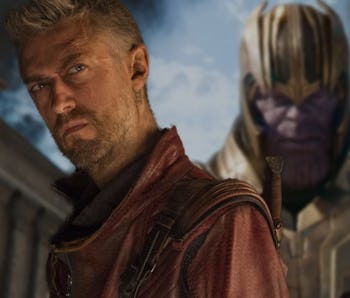 Entertainment
The Missing Guardian of the Galaxy Hints He'll Return in 'Avengers 4'
Marvel Studios
The Guardians of the Galaxy finally met the Avengers during Marvel's Infinity War, but they didn't fare so well in their battle against Thanos. With the exception of Rocket and Nebula, who is a part-time Guardian anyway, all the other members of the team died or turned to dust when Thanos snapped his fingers. However, one of their associates was MIA during Infinity War, but the actor behind the character has hinted that he might return for Avengers 4.
In an interview with Good Day Sacramento during the city's Fandemic over the weekend of June 22, Guardians of the Galaxy actor Sean Gunn gave a classic non-denial denial when asked if his character, Kraglin, would return for Avengers 4.
Gunn, who is director James Gunn's brother, will absolutely be involved in Avengers 4, because he performs the motion capture for Rocket, and Rocket is one of the few survivors of Thanos' purge. Audiences actually see Gunn's face when he plays his other character, Kraglin, Yondu's former No. 2 Ravenger.
"I cannot confirm nor deny whether I'll be in the next Avengers movie," Gunn explained. "I did work on it as Rocket, but as for my other character, I think we'll just have to keep watching. I don't think we've seen the last of him, but there's more coming some way."
On its own, this wouldn't be much of a hint one way or another, but there are other bits of evidence that make Kraglin's return possible, namely James Gunn's explicit statement that he was missing from Infinity War for a reason.
"Kraglin is off doing something important during Infinity War," Gunn tweeted in May. "He will return."
Guardians of the Galaxy vol. 2 actually took place four years prior to the events of Avengers: Infinity War, which means there was plenty of time for Kraglin to go off on his own adventures. As for how he'll return in Avengers 4, assuming the Gunn brothers haven't been talking about vol. 3 this whole time? Well, maybe Kraglin was tracking the Guardians and he'll arrive to find a stranded Iron Man, Nebula, and a bunch of dust. Nebula and Iron Man are going to need some way off that planet, right?
Avengers 4 comes out on May 3, 2019.