Showtime's 'Halo' Show Is Finally Happening, But Will The Flood Be in It?
Is it really Halo without scary space zombies?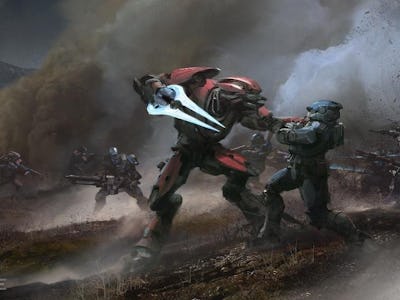 Microsoft, Bungie
Showtime's long-promised Halo TV show is finally, officially happening. The adaptation, which has been in development since 2013, got the green light on Thursday, and it actually sounds pretty great.
Entertainment Weekly reports that Showtime officially ordered 10 episodes of the Halo series and hired a showrunner and director. The plot will take place a distant 26th century future and explore the conflict between advanced human society and The Covenant, the original alien threat from the Halo games. There's no mention of The Flood, the extraterrestrial zombie race that features heavily in the video game series, but we have to assume they'll turn up as well.
According to EW, the show will also "weave deeply drawn personal stories with action, adventure and a richly imagined vision of the future."
Showtime President and CEO David Nevins went on to call Halo (the current working title) "our most ambitious series ever," adding that "we expect audiences who have been anticipating it for years to be thoroughly rewarded."
Rupert Wyatt, who directed Rise of the Planet of the Apes, will direct multiple episodes and serve as executive producer. Kyle Killen (Awake) is also involved as an executive producer.
If the news that the same person who directed Rise of the Planet of the Apes" is directly involved in Halo* has you excited you're not alone. The film managed to put a fresh spin on a classic franchise while also paving the way for a new series that could stand up on its own merits.
If Wyatt (and Killen, and the rest of the team) can do the same thing for Halo then we may finally be getting the TV adaptation that fans of the video game series truly deserve.