It's Time to Upgrade Your Phone Charger Situation
With fast chargers everywhere, the age of "Low Power Mode" is over.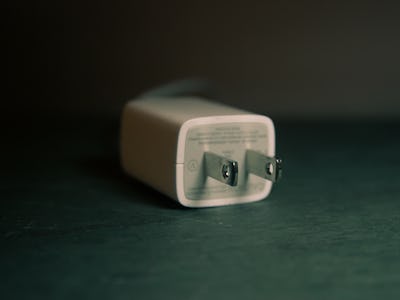 Unsplash / Steve Johnson
You might not know this, but after more than ten years since the iPhone's release, Apple's approach to charging its flagship product hasn't changed that much. Buyers of everything from the impressive iPhone SE to the high-end iPhone X are, upon purchase, presented with the now-ubiquitous 5W Apple wall charger as a means of providing power to their device. You know the one.
Looks like something you'd get in a Happy Meal box, right? A sad little nub of plastic tasked with keeping your gadgets from crapping out on you. Even Android users don't have many great charging options out of the box. You deserve better, and right now there are tons of upgrade options out there, whether you're looking for something that can charge your devices super fast, or just want something more heavy-duty and packed with features than the standard, measly offering. Here are three of our favorite chargers to unseat those flimsy standard-issue things.
The Szysk Fast Charger with USB-C to Lightning Cable
Not only does this charger support rapid-speed charging for the iPhone lineup, it provides a USB-C to Lightning cable for your troubles, too. If you're looking to get on the Quick Charge bandwagon (and why wouldn't you?) there's no more affordable, reliable option out there. Quick Charge devices claim to charge twice as fast, up to 50 percent in just 30 minutes, and by all accounts that seems pretty accurate (sometimes it's even faster). Not only that, but there's a standard USB port too, so you're never left out in the cold. [Amazon, $27.99]
Anker Elite Dual Port 24W Wall Charger
This offering from one of our favorite electronics companies, Anker, won't juice up your phone much faster than standard chargers, but the price is right and the Elite offers two USB ports capable of delivering full-speed charging to two devices at once, all in one compact body. [Amazon, $10.99]
Anker 30W Wall Charger for iPhone X/8/8 Plus, Android Devices
Here's a heavy duty USB-C charger for any device offering Quick Charge technology, as well as a standard USB port, naturally. No cable included this time around, but we've got you covered… [Amazon, $27.99]
Metrans USB-C to Lightning Quick Charge Cable
Easily the best Quick Charge cables in the game. Sturdy, attractive, and, above all, reliable. [Amazon, $12.99]