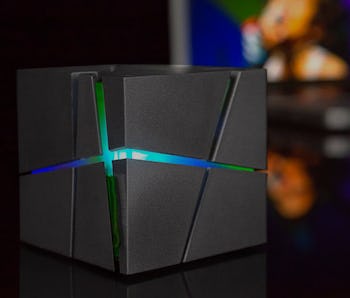 Innovation
Get More Than 50% Off the Bluetooth Speaker of the Future
If aliens have speakers, they probably look like this.
Stack Commerce
A high-quality Bluetooth speaker is good to have. Whether you want to stream tunes from your phone while you get ready in the morning, or want to give your laptop movie nights a little more audible pop, your first purchase should be a reliable, sturdy speaker that not only sounds great, but looks great too.
All that's why we were so excited to find The Cube: A Bluetooth speaker for the Space Age futurist in all of us. It uses Bluetooth technology to wirelessly delivery seriously good sound with crisp highs and a booming bass, and it looks like something out of a Spielberg movie. "If Aliens Have Bluetooth Speakers, They Probably Look Like This" The website says, and we're gonna have to agree.
The unique design and cool LEDs make this a one-of-a-kind type of gadget. For the obstinate analog audiophiles out there, there is of course a port for an aux cord, too.
if you ask me, a piece of tech that beams music from your devices and looks like the freaking AllSpark should cost anywhere between $1 million and $5 million. Luckily, that's not the case, and for a limited time Inverse readers can get their hands on this nifty, high-powered gizmo for 56 percent off at $21.99, down from $49.99. Tomorrow's technology, yesterday's price.