YouTube Should Be Worried About Instagram's IGTV 
YouTube has got some serious competition.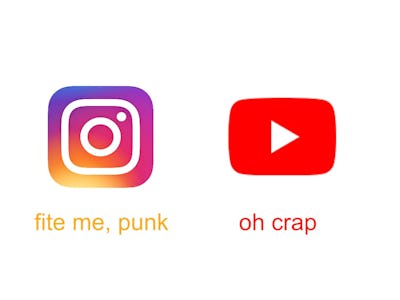 Inverse, Jonathan Lee
Instagram announced IGTV, the company's new longform video app on Wednesday. It's a bold move, but in a world where YouTube has become the defacto video platform on the internet, how will it set itself apart? And who will use it?
How Is This Different From Regular Instagram?
Basically, it's a much beefier form of the regular Instagram video that can be used for a long selfie video or a high production video. IGTV accounts are separate from regular Instagram accounts but you can still follow IGTV accounts from the native app. That means if you want to subscribe to a creator's's or friend's IGTV videos, you need to follow their unique IGTV account.
There's probably a good chance that they've already uploaded IGTV videos. Here's a pic from my own Instagram feed:
What Do Content Makers Think?
The general reception has been optimistic, but not without some concerns. There's no way to monetize content on IGTV yet and Instagram hasn't offered any firm details on how or when exactly that will happen.
"We are committed to helping [creators] build their careers and make a living doing this work," a YouTube spokesperson told Recode. "After launch, we'll be exploring and testing ways to help creators monetize."
It's also favored towards big creators. Currently, videos are capped at 10 minutes, except for large and verified accounts which can post videos for up to an hour long. However, Instagram CEO Kevin Systrom said the team will eventually roll out unlimited videos for all users.
Like Instagram videos, all IGTV videos are vertical. RickyFTW, one half of the YouTube show Internet Today, said the vertical format of IGTV would require him to shoot and edit each episode twice. Ripping it straight into IGTV ended up being a failed experiment.
Other YouTube creators like tech reviewer Marcus Brownlee don't see it as a barrier.
"I feel like if vertical video is the biggest complaint about IGTV, then that's probably a really good sign," Brownlee said in his own video. For now, it seems IGTV will be primarily used for short content that occupies a happy medium between Instagram stories and a full-on YouTube video.
Okay, Cool, but Can C Compete With YouTube?
Honestly? IGTV is looking strong. Instagram doesn't have everything figured out yet but it's got a solid game plan.
YouTube dominates the video market on every conceivable level. Vimeo has carved out a strong niche for its reputation as a professional's streaming platform and Dailymotion's audience appreciates it for being laxer on content restriction than YouTube. However, neither have come close to challenging YouTube's ubiquitous presence. The closest threat has been Twitch, the live streaming platform that YouTube has challenged by launching YouTube gaming.
Instagram knows it can't possibly challenge YouTube on desktop (yet). But it does know that if you're using Instagram, you're on your phone, so why not give you an easy way to watch videos of the people you follow without needing to swap out to another app?
This is the front that Instagram has chosen. IGTV aims to be the efficient, accessible app for mobile videos, right down to the vertical format, because Instagram has correctly determined that people would greatly prefer to watch a video without needing to flip their phones.
After tinkering around with it, I can confidently say that it's much faster than YouTube's mobile app. Most videos load instantly, and none take longer than a second to fire up and start rolling. The aim here is to leverage what Instagram already does well, which is primarily used to follow people rather than media.
This is reflected by the creators Instagram chose to highlight such as Lele Pons and Tyler "Ninja" Blevins. You're not going to IGTV to watch movie trailers or clips from television shows (yet). You're going on to watch your friends and your favorite internet personalities, and that's something IGTV can do a lot better than YouTube can.
Instagram has a history of proving naysayers wrong, including myself. I thought Instagram stories would flop and now here we are. The company has successfully rolled out photos, livestreams, stories, and videos.
Now it seems poised to make another big hit, and Youtube is going to feel it.