Cryptocurrency Price: Bitcoin and Others Soar As Regulators Warm to Coin
The jump comes as regulators give their approval to measures.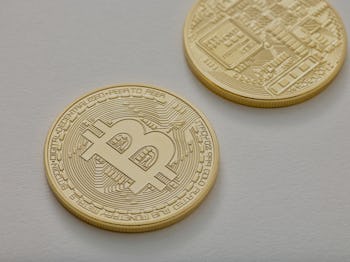 Flickr / lookcatalog
The cyrptocurrency market is bouncing back after a lackluster spring. Prices across the board rose on Tuesday, with 93 of the 100 largest coins reporting gains over the past 24 hours on crypto market tracker CoinMarketCap. The jump comes amid warming attitudes to the tech area, with a handful of prominent regulators making positive moves that support the sector.
Bitcoin, still by far the largest cryptocurrency on the market with a 39.8 percent market share recorded a jump of 4.4 percent to reach $6,766.78. Second-placed Ethereum jumped 7.2 percent to reach $533.76 with a market cap of $53.5 billion, making it one of the strongest performers of the day. By far the best performer out of the 100 was Tron's 10th-placed TRX token, which rose 17 percent to reach $0.049 per token with a market cap of $3.2 billion.
The jump comes just after Square, the company headed by Twitter CEO Jack Dorsey, received approval as one of nine crypto firms to operate in New York State. In the same week, the state's department of financial services also gave the green light to enable Stellar Lumens trades. These moves comes just days after the national Securities and Exchange Commission approved that Bitcoin and Ethereum should not be regulated in the same way as stocks and bonds.
It hasn't all been great news for crypto. In a scathing report about Bitcoin's long-term impact, the Bank of International Settlements published a report that claimed the cryptocurrency would eventually buckle as "even under optimistic assumptions, the size of the ledger would swell well beyond the storage capacity of a typical smartphone in a matter of days" and "the associated communication volumes could bring the internet to a halt, as millions of users exchanging files on the order of magnitude of a terabyte."
It seems the report has not pushed investors away from the markets, but whether prices will continue to rise, after a month of decline, is less than certain.
The author of this story has a stake in bitcoin and Ethereum.