A Face of the Medical Marijuana Movement Has Died of Cancer
Benton Mackenzie wanted relief from rare, rampant tumors. Iowa took him to court.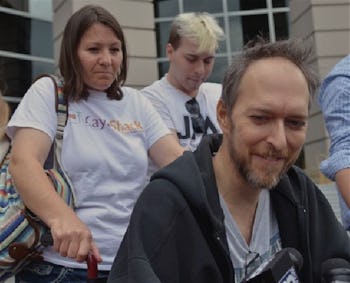 Facebook  / Free Benton Mackenzie
Benton Mackenzie, who became a lightning rod for the medical marijuana movement after being convicted last year of growing the plants in his home to treat his terminal cancer, died Monday in Long Grove, Iowa.
Mackenzie, 49, was diagnosed with angiosarcoma seven years ago. It's a rare cancer of the blood vessels that in his case caused lesions and eventually massive tumors on his rear and his right leg. The Quad-City Times reports that by the time of his 2014 trial, the growths were so large that he had to wear baggy sweat pants to court for a semblance of comfort and spent most of the testimony breathing with an oxygen mask. At one point in the trial, his health had deteriorated to the point where he had to be rushed to the hospital for a blood transfusion.
Mackenzie was growing the marijuana plants to make a cannabis oil to apply to his tumors — a treatment he said had been thereaputic and had, in the past, caused his lesions to vanish. Jurors, however, were not allowed to hear any testimony regarding his health. Since his trial, a Free Benton Mackenzie Facebook page has posted several pictures of the tumors he was struggling with. Be warned if you visit, these are graphic images and they will break your heart.
"I have lasted seven years on a disease that takes people who don't get treated in two years. And people who go through the traditional methods, they last three years. So basically I have proven the decision I made was the right one, to save my life," he told the court at his sentencing. The judge gave him probation.
The case also swept in his wife, Loretta, and son, Cody. She was convicted of conspiracy to grow marijuana; the son was convicted of drug possession; each was sentenced to probation. Both cases are being appealed. Because the family lived with Benton's parents, the senior Mackenzies were also threatened with misdemeanor charges for hosting a drug house. The attorney's office showed a sliver of mercy and dropped the case.
The Associated Press reports that there's not much research out there on the effectiveness of cannabis oil, but doctors aren't dismissing Mackenzie's claims. He was so certain of its effectiveness that he managed to get a card for medicinal marijuana in Oregon and made several trips a year to bring oils back from the West Coast.
Right now, Iowa only allows medical marijuana use for epilepsy. Earlier this year, Democrats in the State Senate pushed to expand a bill to also include debilitating medical conditions like cancer and HIV, but talks stalled. The fighting got downright ugly, and the quotes in Iowa papers read like a lot of angry old men either misinformed or just out of touch enough to still be scared of what people would say.
House Speaker Kraig Paulsen, Republican, told the Des Moines Register, "The way I understand this bill, it's basically couched in medical terms, but it's virtually a recreational use bill."
Then there's this Swiss watch of an argument from Republican Sen. Amy Sinclair, who immediately recognized that voting for a bill that would give some relief to terminal cancer patients was basically the exact same thing as blocking abortion legislation. I think? Sinclair's argument gets a little murky and basically boils down to, 'Because abortions!' but you be the judge of this quote:
"That call for a moral obligation to vote brought to my mind the fact that, don't we here in the Senate have that same moral obligation to protect and defend every single individual's right to live a full life?" Sinclair said. "Don't we have a moral obligation to debate and vote on rights of the unborn, who frankly don't have a voice of their own in the debate?"
Mackenzie died young of a rare cancer, while on probation. He is survived by a real debate.