Noted Movie-Spoiler Tom Holland Joked There Won't Be a 'Spider-Man 2'
Marvel's spoiler master strikes again ... or does he?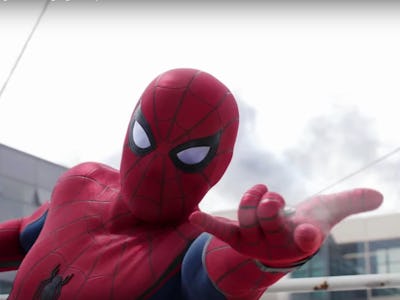 Marvel Entertainment
Another day, another movie spoiler from Tom Holland. But this time, he might not have actually given something huge about a movie away, as the actor has been known to do in the past.
On Friday, Holland joked on Twitter that there won't be a Spider-Man: Homecoming 2. But, fans know that the next solo Spidey movie definitely already has a release date in July 2019, so everybody's favorite, friendly neighborhood Spider-Man seems to be trolling just for the heck of it.
What Is Tom Holland Doing?
Holland has either spoiled, or almost spoiled, movies plenty of times in the past. Actor Benedict Cumberbatch had to keep him from spoiling Avengers: Infinity War on several occasions during the press interview junkets for the movie.
In one instance, at a screening of Infinity War, Holland went out to greet the audience before the film and screamed "I'm alive!," not realizing that they hadn't seen the movie yet, and had no reason to believe his character wouldn't be alive, according to *Moviefone.* Oops?
Holland knows Jurassic World: Fallen Kingdom director J.A. Bayona from their work on the movie The Impossible, and Holland ended up spoiling the whole plot of Jurassic World: Fallen Kingdom for the franchise's star, Chris Pratt, Den of Geek reported.
When Bayona found out Holland had spoiled Pratt, he tweeted on Friday, "That was supposed to be a secret, @TomHolland1996!! You're a weasel!!"
In response, Holland tweeted, "I just got so excited. This is exactly why marvel won't tell me the plots anymore."
Bayona then retweeted Holland and said he wouldn't tell "anyone anything about Spider-Man 2," and that's when Holland apparently decided it was time to troll some fans.
No Spider-Man 2?
Holland responded to Bayona's tweet and wrote, "What do you mean Spiderman 2? Didn't you see avengers 😂#idontwannago"
Obviously, that hashtag was entirely unnecessary, but it's OK, Tom. I needed my heart broken all over again.
The actor was obviously just messing with Bayona and fans with the tweet, because we know Marvel has at least two more Spider-Man films with Holland planned.
Of course, in the next Avengers movie, we really have no idea yet who'll be back, and who might die — if anyone does die for good, for that matter. We also don't know if Holland will be allowed to talk about it with any measure of truth at all to promote the film, since he keeps pulling shit like this and Marvel might lock him in a room somewhere to keep him quiet. Just be cool man, damn.
The Sinister Six Assemble in Insomniac's 'Spider-Man' E3 2018 Gameplay: