The 5 Best Trailers From Comic-Con, Ranked
Clowns, zombies, and Batman. Who wins?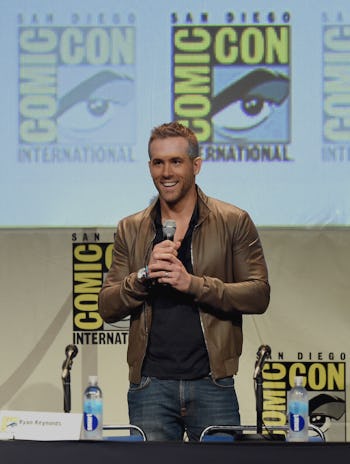 Getty Images
San Diego Comic-Con was the wildest pop culture party on the West Coast, and it wouldn't be complete without trailers to hype us through rounds of drinks at the hotel bars.
Here are the five absolute best trailers that debuted at this year's San Diego Comic-Con. Whether you were there at the party or not, see if you agree.
Side note: As great as the sizzle reel for Star Wars: The Force Awakens was, it technically doesn't count. Because, uh, it's not a trailer.
5. 'The Walking Dead' Season 6
A thumping blues rock with snarling zombies is signature Walking Dead. Something totally new or really intriguing would have been appreciated, as opposed to "Will your favorite person die???" But no other show does that better, other than Game of Thrones.
4. 'Suicide Squad'
I've heard some bizarre criticisms about this trailer. Namely its emo rendition of pop and typical trailer beats that mark the modern era of cinema, but I thought it was gorgeous. Beautiful, breathtaking shots with the haunting music felt right alongside what is supposed to be a last-resort team of super villains. It's a dark time when you depend on these people to save the day, and the trailer felt just right.
Also, kudos to Jared Leto for shutting up a lot of haters with just the very few seconds he had.
3. 'Batman v. Superman: Dawn of Justice'
And kudos to almost everyone working on Batman v. Superman for shutting up even more naysayers. I'm still not drinking the tonally dark Kool-Aid DC is trying to get me to sip, but I'm more excited for this movie than I ever have been.
And I saw this on my phone on the noisy Comic-Con showfloor, I couldn't be in Hall H. I watched with G4TV alumni's Chris Gore and Victor Lucas
Maybe it's Gal Gadot rocking as Wonder Woman that has me the most stoked. I'm in the minority when I say I don't mind Ben Affleck (I'm reserving my judgement until I see the movie), but I was all about Gal Gadot when she was announced and, seeing her rock in that Amazonian armor was so, so satisfying. Just bring on 2016 already.
2. 'Deadpool'
It's a real bummer I can't show off what I think is actually kind of equal to No. 1 on this list. Twentieth Century Fox is still hesitant on uploading the Deadpool trailer in full for some bizarre reason. It deserves to be seen in its full resolution, right now.
We can't advocate piracy, but if you just so happen to come across it, take your sweet, sweet time closing out of that window.
1. 'Ash vs. the Evil Dead' Season 1
Hail to the king, baby.
The best trailer out of Comic-Con wasn't a superhero movie or TV show, but a goofball horror series that I'm so delighted is making a comeback. Bruce Campbell's comedic sharpness hasn't dulled a day, and I'm already counting down the days until it premieres on Starz. Just 119 days…