World Cup 2018: Meet the 32 Artists Behind Google's Series of Football Doodles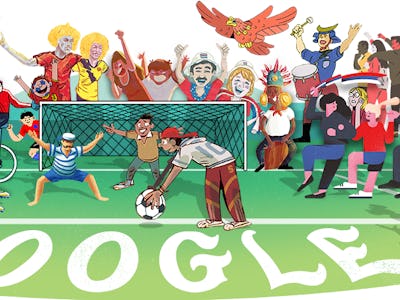 The 2018 FIFA World Cup kicked off in Russia on Thursday, where athletes from 32 countries will compete in the month-long tournament. Beyond assessing which country has the best men's national team every four years, the World Cup is a chance for countries to celebrate their culture and history on a global stage.
To celebrate the diversity of the World Cup, Google published the first in a series of doodles that celebrate some of the cultural identities of each participating country. A new Google Doodle will appear every day of the tournament, where each of the 32 soccer teams will see their country celebrated with new artwork.
Today's Doodle collage, created by Gluekit, gives a sneak peek of the next 32 doodles by including elements from the upcoming work. The following artists were selected to represent their countries with a doodle that answers the prompt: "what ⚽ looks like in my country."
Senegal – Reverse Pamplemus
"Football in Spain is called the 'king of sports' so that gives you an idea of its importance," said artist Andrés Lozano of his doodle to represent Spain. "It's a part of every Spaniard's life, even If you're not into sports." The Day 2 doodle that kicks off on Friday will feature his artwork depicting Spain, as well as the doodle representations for Egypt, Iran, Morocco, Portugal, and Uruguay.
What stands out in this series of doodles is not just the amount of artwork, but the diversity of artists as well. Each team's artwork was created by a national of that country, ensuring that these depictions are a nuanced and sincere representation of the country through the perspective of one of its citizens. This may create a lot of surprises in how each nation is represented, but overall reveals the extent to which the World Cup reaches traditions across the globe.