Tesla Autopilot Nag Will Get Less Annoying Soon, Elon Musk Confirms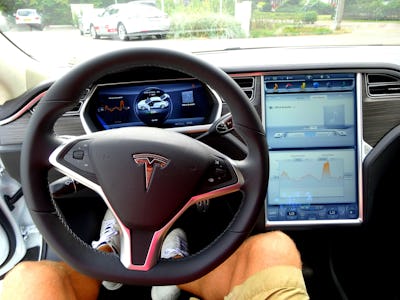 Flickr / d_vdm
Tesla is tweaking its Autopilot tips. CEO Elon Musk confirmed on Wednesday that it's continuing to develop its semi-autonomous driving mode to clarify how users need to grip the wheel to continue driving. The adjustments are designed to stop drivers using their Tesla unsafely, like recent reports of one user spotted sitting in the passenger seat with Autopilot engaged.
Tesla rolled out the 2018.21.9 update earlier this month in response to reports of unsafe use. However, Twitter user Peter McCollough complained to Musk via Twitter that the new update "is a pain" as he now has to "white knuckle death grip" the wheel to stop the constant alerts. Musk confirmed the screen alert will be adjusted to clarify the amount of force required from drivers.
The community response to Tesla's detection system has been mixed, with one Reddit user called "online spending" describing Musk's decision to require a slight force on the wheel as "not a very natural way to hold the steering wheel when it's already auto steering." A Reddit user called "IBFT" noted that Tesla is quick to release stats around Autopilot after a crash, like with the minor Utah collision in May that showed the driver took their hands off the wheel more than a dozen times, but that "if they can't detect hands on the wheel without forcing the driver to make an unnatural grip, then that data is meaningless."
Autopilot is gradually improving, with over-the-air software updates for cars that use Tesla's in-house suite of sensors and computer setup. These cars, which started shipping in October 2016, ditch the previous system developed by former partner Mobileye and aim to support full autonomous driving at a later date. The company has worked to bring its vehicles up to feature parity with its older systems: Musk said in a February 2017 earnings call that Mobileye's refusal to use both systems concurrently forced Tesla to "cross the rubicon."
Autopilot is generally considered a "level two" autonomous driving system under the Society of Automotive Engineers ranking from zero to five. Tesla plans to roll out full self-driving features soon, with the first updates exclusive to the $3,000 mode set to launch as soon as August.
Holding the wheel could become a stepping stone on the way to more autonomous driving solutions.