A Massive Dust Storm Is Threatening Mars Opportunity Rover: How to Get The Latest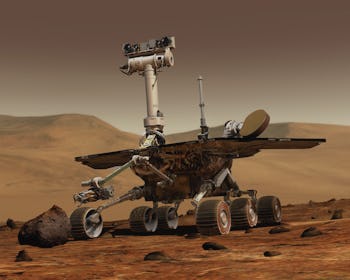 NASA
A dust storm the size of North America and Russia combined is wreaking havoc on the Mars Opportunity rover, jeopardizing its solar-powered internals and blocking the sunlight it needs to function. It's unclear whether the Opportunity rover — which has been roaming Mars for 14 years, and has survived one major dust storm before — has finally met its match.
NASA is set to host a press conference on Wednesday to discuss the storm, and should shed light on the Opportunity rover's current status, as the team grapples to literally shed light on the machine's solar panels.
What's Happening to Opportunity
Opportunity has served the agency well, weathering some pretty intense dust storms, including a 2007 storm that sent the machine into low power mode for almost two weeks. That was nowhere near the intensity of this current storm, though, which has an opacity level (or "tau") of 10.8, compared to the 2007 storm's rating of 5.5.
This storm, described by the agency as "one of the most intense ever observed on the Red Planet," covered more than 15.8 million square miles as of June 10, a quarter of the planet. From Opportunity's perspective, day is now effectively night as it rests in the heart of the storm in the aptly-titled Perseverance Valley. The current storm season could go on as late as early 2019, and it's unclear when Opportunity will awaken.
The space agency posted a photo last week, taken by the Mars Reconnaissance Orbiter, of Opportunity struggling in the whirlwind of dust.
As of 6:30 p.m. Pacific time in Tuesday, the agency reports that it believes Opportunity's batteries have dropped below 24 volts and it's now operating in a state of low power. That means everything except a mission clock is switched off, and the clock will wake the machine up regularly to check power levels. The agency predicts the panels won't have enough sunlight to resume the mission for another few days.
How to Listen to the NASA Opportunity Press Conference
To listen to the livestream, follow this link for an audio-only version. If you'd like to see the teleconference with visuals, follow this link. Users will be able to ask questions during the press conference using the hashtag "AskNASA" on social media.
The conference is set to start at these times:
10:30 a.m. Pacific time
1:30 p.m. Eastern time
6:30 p.m. British Summertime
7:30 p.m. Central European Standard time
1:30 a.m. China Standard time (Thursday)
3:30 a.m. Australia Eastern Standard time (Thursday)
The administration press conference will include four key participants: John Callas, Opportunity project manager at NASA's Jet Propulsion Laboratory (JPL), Rich Zurek, Mars Program Office chief scientist at JPL, Jim Watzin, director of the Mars Exploration Program at NASA Headquarters, and Dave Lavery, program executive at NASA Headquarters for the Opportunity and Curiosity rovers.