'Game of Thrones' Spin-Off Setting and Time Period Revealed by HBO
The next epic in the World of Ice and Fire is coming.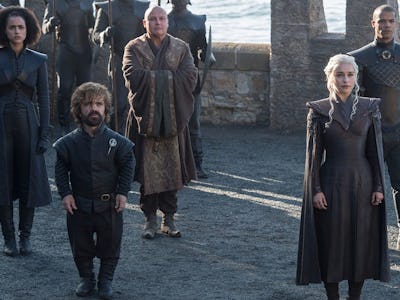 HBO
Game of Thrones is wrapping up soon, but we'll be going back to Westeros sooner than you think — give or take a few thousand years. A new Game of Thrones* series is in the works, and it's a prequel that will explore the world's distant and mythical past.
The new series is a collaboration between writer Jane Goldman and diehard New York Giants fan George R.R. Martin. It's also delving into new territory, because neither the show nor the books have ever delved into the Age of Heroes. The show will portray the fall of a golden era in Westerosi history, uncover the origin of the white walkers, and will not be "the story we think we know." Groovy.
Game of Thrones showrunners D.B. Weiss and David Benioff are not part of the project.
In January, HBO executive Casey Bloys said that up to five projects set in the Games of Thrones universe was in the works. Goldman and Martin's project is the first to be greenlit and confirmed, but we probably won't see it until at least 2020.
If you're wondering what the Age of Heroes is, well, your guess is as Tyrion Lannister's. Much like our own histories on Earth, the Age of Heroes is shrouded in mystery. It's a time that was constantly referenced by characters in the novels, but more as a creation myth than any kind of concrete history. But among these fantastical accounts, there is one event that definitely happened: The Long Night. This is the terrible winter when the Others (or white walkers) first came down from the frozen north and invaded the realms of man.
You can also expect a lot of references to characters and events in the current Game of Thrones series. Trust me, I've been reading the books for more than half my life now, and G.R.R.M really loves his winks and elbow nudging.