The Craziest Twist of 'The Staircase' Isn't in the Netflix Documentary
The show's editor was reportedly in love with Michael Peterson.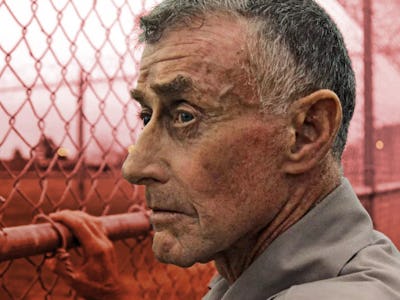 Netflix
The Staircase, one of the most riveting true-crime documentaries of all time, is now on Netflix with three new episodes that finish the saga of Michael Peterson's murder trial for the 2001 death of his wife, Kathleen. It's an amazing, riveting story — a top-caliber drama with tons of twists and turns. But, uh, turns out perhaps the wildest part of the saga isn't addressed in The Staircase at all. Turns out Michael Peterson had a relationship with the show's editor.
The fact that Peterson — who, "spoiler alert" eventually pled guilty to manslaughter in order to spare himself another lengthy trial — formed a relationship with The Staircase's editor Sophie Brunet isn't a secret, though it doesn't appear to be widely known information here in the United States. However, as writer Rachel Syme pointed out, there's plenty of reporting on the relationship in French media.
French filmmaker and director of The Staircase, Jean-Xavier de Lestrade, confirmed in a March interview with L'Express that Brunet had fallen in love with Peterson while they were making the documentary. Asked specifically by the interviewer about Brunet having fallen "in love" Peterson, de Lestrade responded:
This is one of the incredible things that happened during those 15 years. Life is really full of surprises. They had a real story, which lasted until May 2017. But she never let her own feelings affect the course of editing.
That "but" in de Lestrade's answer sure is doing a lot of heavy lifting! It's unclear if Peterson reciprocated the feelings. And based on available information, it seems like a stretch to say the two were dating.
A 2008 story in Le Monde further revealed that Brunet flew from Paris to Durham, North Carolina, every "two or three months" over the course of four years to visit Peterson while he was in prison following his 2003 trial. (Peterson spent eight years in prison, but discredited evidence led Judge Orlando Hudson to order a new trial, and a plea deal was later negotiated.)
That's not inherently a problem, as it's quite normal for documentaries to have a point of view or be a form of advocacy journalism — though pretty much every journalism standard frowns on intimate relationships with sources or subjects — and The Staircase is primarily a fly-on-the-wall documentary. However, given how the filmmakers primarily had access to Peterson and his defense team, it was always going to give him more time to make a case for his innocence than it gave the non-cooperating or not-present prosecution to argue his guilt. Further to this point, Kathleen's sister, Candace Zamperini, slammed the documentarians in her statement at Peterson's final plea hearing during. That also made it into the docuseries.
The Staircase does not address the relationship between Peterson and the filmmakers. The only real moment where they break the fourth wall (or at least the only one that appears in the final cut of the series) comes when Peterson gives de Lestrade a hug when he's getting released from prison and thanks him for being there with his cameras. But to pretend that there is no way that the feelings Brunet had — intimate or otherwise — didn't make their way into The Staircase seems farfetched.
For the most part, The Staircase avoids inserting the people who made it into the narrative, and the show attempts to avoid tipping its hat to their existence whenever they can. It's the creators' intentional, conspicuous absence from The Staircase — save a few rare instances — that makes Brunet's affection for Peterson that much more surprising.
The Staircase, which is an amazing documentary regardless of all this, is now streaming on Netflix.