Dr. Virginia Apgar: 3 Ripple Effects of Her Vaccination Efforts
Her advocacy continues to save newborns and their mothers.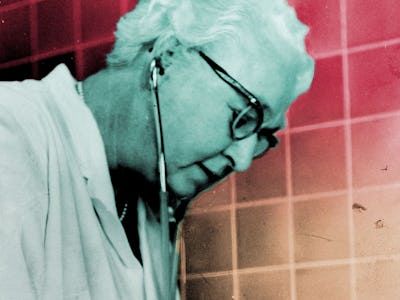 During her career as an obstetrical anesthesiologist, Dr. Virginia Apgar attended over 20,000 births and saved countless more deliveries thanks to her Apgar score, a method to identify the health and mortality risks of a newborn infant. And it was this extensive career of saving babies that led her to become a staunch advocate of vaccinations, leading to some of the most important advancements in vaccines.
On Thursday, Google celebrated what would have been Virginia Apgar's 109th birthday with a commemorative doodle. By developing the Apgar score, she enabled doctors to identify potential risks in newborns in as quickly as 60 seconds, leading to a massive drop in infant mortality rates. In the 1950s the likelihood of a child dying before its first birthday was one in 30, whereas it is one in 500 today.
During the rubella pandemic of 1964, Apgar became an advocate for universal vaccinations and traveled across the United States to promote the proper detection and prevention of birth defects. Her 1972 book Is My Baby All Right?, co-authored with Joan Beck, as well as her more than 60 scientific articles highlight the importance of vaccinations, which have contributed to the prevention of rubella as well as the advancement of modern vaccines.
Eliminating rubella
The 1964 outbreak of rubella, or German measles, took a devastating toll on the United States. Between 1964 and 1965, the US had an estimated 12.5 million rubella cases, which led to 11,000 miscarriages or therapeutic abortions and 20,000 cases of congenital rubella syndrome. Not only did rubella lead to over 2,000 infant deaths that year, but the outbreak caused 12,000 cases of deafness, 3,580 cases of blindness, and 1,800 of intellectual disability on record. All of this, Apgar argued, could have been prevented if mothers were vaccinated before pregnancy.
Because of successful vaccination programs, such as the MMRV vaccine that treats measles, mumps, rubella, and varicella (chickenpox), rubella has been eliminated from the United States since 2004. However, rubella is still common in other countries, meaning unvaccinated people can still get rubella while abroad and bring it back to the US.
Expanding Rh testing
Each year, Apgar traveled across the country to speak to audiences about early detection of birth defects. In order to prevent the mother-to-child transmission of rubella and other diseases, Apgar advocated for the use of Rh testing, which can identify women who are at risk of transmitting antibodies across the placenta that could potentially bind with and destroy fetal red blood cells, causing fetal hydrops, anemia, or even miscarriage. Thanks to Apgar's prevention efforts, the Rh test is still implemented to pregnant women today, usually during their first prenatal visit to determine potential risks during the pregnancy.
Fighting premature birth rates
From 1959 until her death in 1974, Apgar worked for the March of Dimes Foundation. During her tenure as the organization's Vice President for Medical Affairs, she directed its research program to prevent birth defects through the use of vaccines and preventative testing. It was during this time that she brought nationwide attention to the problem of premature birth. She promoted the usage of vaccines to prevent the inventions that often catalyze premature birth, which is still the most common cause of death among infants worldwide.
Today, preventing premature birth continues to be one of the top priorities at the March of Dimes, which offer an annual report card for how each state is fighting this ongoing problem. In 2017, the preterm birth rate in the United States increased for the second year in a row, rising 2 percent to 9.8 percent in 2016, earning the US a C-grade overall.
Apgar's breakthroughs in health are not only still being used today, but her advocacy for vaccinations and preventative testing set into motion the organizations that still hold the American health system accountable for the health and well-being of newborns and their parents.