The First Rule of 'Fight Club' Is: You Don't Sing About Fight Club
Trent Reznor, David Fincher, and Julie Taymor will bring you a Broadway musical to break the machine.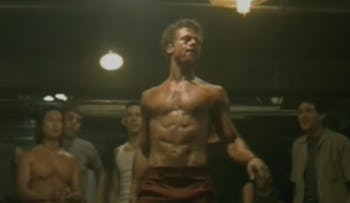 YouTube
The Fight Club comic book sequel hasn't even ended its run, but milking a pop culture phenomenon is no weekend retreat. You thought t-shirts, hoodies, and soap were the only ways Chuck Palahniuk could sell his anti-consumerist blood sport? Well, don't worry fans, there's a Broadway musical in the works. You're one step closer to hitting bottom.
Palahniuk confirmed the project on Twitter, saying that film director David Fincher was teaming up with Julie Taymor to bring song and dance to story of an anonymous office drone so suffocated by his the possessions that he can only feel alive by being beaten senseless by a half-naked Brad Pitt and Jared Leto. The first rule of Fight Club will presumably remain not talking about Fight Club, the second will be for three years of modern dance, two years of tap. Taymor previously worked on Spider-Man: Turn Off the Dark, which should assuage fears that she can't coordinate a spectacle of gruesome injuries.
Perhaps you think this is an odd pairing, the average price of Broadway show running just over $100 a ticket, but I'd ask you to remain optimistic. It's still entirely possible that once they've got an audience of one-percenters seated, they'll padlock a chain on the door and drop the curtain to reveal the show is just a holographic projection of a giant cock for three hours, minus intermission. Or, yeah, we could be in for an original cast performance of second act showstoppers like "His Name Was Robert Paulson (Bitch Tits Tango)" at next year's Tony awards. Either way, as long as Neil Patrick Harris is involved, we're all winners.