Get an 81% Discount On a Powerful VPN
PureVPN is an essential tool for modern life online, and it's never been cheaper.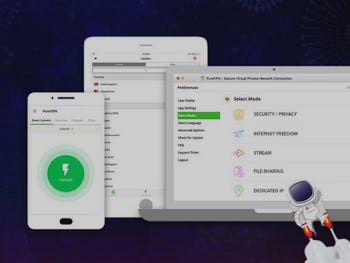 Stack Commerce
Nowadays, there's arguably nothing more essential to the modern internet user than a good VPN. Not only does a VPN protect you from hackers, spies, and your boss's admin spying privileges when all you want to do is kick back with a sports stream on a Friday afternoon, it also lets you stay anonymous from ad trackers, and change your location so you can watch all the British Netflix you want (for real, British Netflix is incredible.)
It's absolutely essential to protect your browsing activity by using a VPN, but there are tons out there, and the price points can be intimidating to say the least. Given that this is software designed to make your life easier and more secure, you want to make sure you're actually getting, you know, a good one from a reputable company that isn't going to shut down on you two weeks into your one-year agreement.
That's what makes the latest offer from PureVPN so incredible. PureVPN boats more than 550 servers in 141 countries, so no matter where you are (or where you want to be), you'll always have access to the privacy and the content you need. not only that, but you can connect up to five devices to your account at blazing fast speeds, including your routers, games consoles, and even smart TVs.
Two-year access to PureVPN's service normally costs $262.80, well within the standard range of VPN expense. But for a limited time, Inverse readers can take advantage of an exclusive deal and get two years of full PureVPN protection and access for just $49. That's 81 percent off, making this pretty much a no-brainer. There's never been a better time to try out a VPN and see what it can do for you.