5 Reasons Tom Longboat Is Canada's Most Iconic Long-Distance Runner
He was the first Native American to win the Boston Marathon.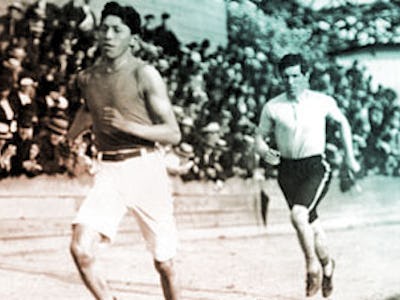 Wikimedia Commons
Google commemorated what would have been Tom Longboat's 131st birthday on Monday with a doodle commemorating his career as a long-distance runner. Considered one of the most significant Canadian athletes, Longboat overcame discrimination to set astonishing world records.
Born in the summer of 1887, Longboat grew up poor on a small farm in the Six Nations Indian reserve outside Ontario. An Onondaga member, Longboat's community was part of the Iroquois Confederacy. And Longboat was inspired to compete after another resident of the reserve, Bill Davis, finished second in the Boston Marathon. As Longboat won races and his reputation grew, the news media attacked his then-unorthodox training methods.
Longboat incorporated "hard," "easy" and "recovery" days into his active training. Today, that's the suggested way to train your body. Then, reporters and fans called it "Indian laziness." But it clearly worked, because Longboat's physical success flourished. When World War I broke out, he served as a dispatch runner in France and retired from running following the war. These are five incredible stats from Longboat's heyday.
5. Boston Marathon in 1907
Just two years after his first race, Longboat won the Boston Marathon with a record time of 2:24:24 — nearly five minutes shorter than the ten previous winners. The course at that time was more than 24 miles long, making Longboat's average mile time just over five minutes.
4. Amateur Win-Loss Ratio
Longboat didn't start competing professionally until after he won the Boston Marathon, the Hamilton "Around-the-Bay" road race and the Toronto Ward's Marathon. Over the course of three years, he only lost three races. One of them was his first race, the Victoria Day race in Canada, when he placed second.
3. Professional Champion of the World in 1909
After collapsing during 1908 Olympic Games Marathon, along with several other runners, a rematch was organized at Madison Square Garden in New York City. Longboat promptly won that race, entered into another race professionally at the same venue, and won the title of "Professional Champion of the World."
2. World Records
As an amateur racer, Longboat held two national titles and several unofficial world records. Later, he was recorded as the fastest runner for the 24- and 32-km races and had nearly set the record for the 19-km race. Longboat consistently did better in longer races, beating his chief competitor Alfred Shrubb at anything longer than 20 miles, but losing at shorter distances.
1. 15-mile in 1912
At the height of his popularity, newspapers labeled Longboat as an alcoholic, following an arrest for drunkenness in 1911. But Longboat proved them wrong, beating his own personal best time for a 12-mile race at Hanlan's Stadium.
Longboat is the first Native American to have won the Boston Marathon. He died in 1949 and was inducted into the Canadian Sports Hall of Fame six years later. Longboat's athletic accomplishments are still honored in Canada and around the globe today, including with a 10-km race in Toronto.