Tom Longboat: How the Heroic Runner Delivered Messages in World War I
Longboat suffered from racist media coverage during his career.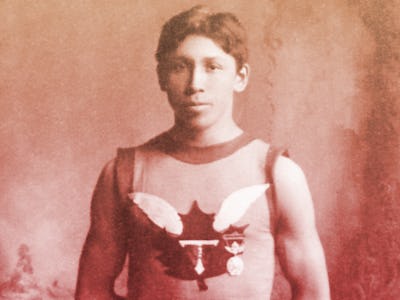 Wikimedia Commons
Google paid tribute to Tom Longboat with a commemorative doodle on Monday, the day that the Canadian long-distance runner would have been 131 years old. Google's tribute, which comes days after similar designs for S.P.L. Sørensen, James Wong Howe, and Abraham Ortelius, is emblematic of Longboat's legacy. The victim of racist news coverage and difficult service in World War I, the athlete overcame huge challenges to set new records.
Soon after Longboat was born in 1887 to a poor family of farmers near Brampton, Ontario, his talent became apparent. He was a member of the Onondaga people, one of the five original groups that made up the Iroquois Confederacy. He was inspired by First Nations runner Bill Davis who came second in the Boston Marathon in 1901. He twice ran away from the Mohawk Institute Residential School as a young teenager, aggravated by the fact the school pressured children to give up their indigenous languages and religions in favor of English and Christianity. He started staying with his uncle and helping out with odd jobs before starting a racing career in 1905, coming in second in the five-mile Victoria Day race. Two years later, he became the first First Nations runner to win the Boston Marathon and face off with 123 other contenders.
As Longboat progressed, he faced racism from the press and others. His training regime, today accepted as good practice, was criticized for combining hard days with softer days that enable the body to recover. Newspapers described him as "lanky, raw-boned, headstrong Redskin" and "as hard to train as a leopard."
"The history of his life was an artifact of how racism clouded an athletic biography," Olympic distance runner Bruce Kidd told CBC last year. "But through that, at least to me, it showed his tremendous strength and that not all whites wanted to be exploitative."
How Google Made the VR Doodle for the French Illusionist George Méliès:
Seven years after Longboat's Boston Marathon victory, Gavrilo Princip shot Archduke Franz Ferdinand in Sarajevo. The ensuing world war led Longboat to voluntarily enlist in the Armed Services in 1916. Here, he used his talents for a new application: As part of the 107th Pioneer Battalion, he worked as a dispatch carrier in France, running from one military post to another. He was mistakenly declared dead twice during this time.
When he returned from war, he took on a position in the street cleaning department of Toronto. He lived out his last days on the Six Nations Reserve in Ontario, where he died in 1949. It wasn't until after his death that Kidd led a campaign to reassess Longboat's image in the face of mistreatment over the years. His heirs were awarded $10,000 in 1980 — the $500 Longboat was meant to receive for winning the Boston Marathon, plus interest. In 1998, he was named Canada's most significant star of all time by Maclean's Magazine, and his new legacy endures today.