Learn Web Design and Development at Your Own Pace With This Majorly Discounted Bundle
Time to learn a new, super useful skill.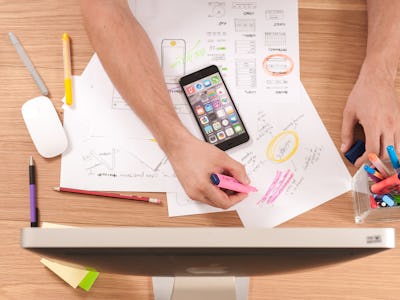 Unsplash / William Iven
Stuck in a dead-end job? Want a cool hobby that isn't trawling Netflix for an at-best entertaining Scandinavian procedural you haven't seen eight thousand times already? Just plain bored? Maybe web design should be your new thing. It's an interesting, vital skill in modern times, and if you really like it you can make a garbage truck full of money doing it as your job, too.
The 2018 Web Design and Front-End eBook Bundle covers everything the modern user needs to know about learning the basics (and advanced techniques) of web design, as well as front-end web development. Both are increasingly important skills in today's world, whether it's what you want to do as a job, or you're just someone who spends time online.
With the bundle, you'll get 14 eBooks to take you from layman to power user. With the design portion, you'll learn the ins and outs of creating meaningful websites, designing for email,
typography best practices, and much, much more. On the front-end front (haha), you'll get vital info on seriously useful topics like HTML semantics, and the best techniques and strategies around performance optimization. Not only that, but access to this course is on a lifetime subscription, so you can rest easy and learn at your own pace, however busy you are.
The 2018 Web Design and Front-End eBook Bundle would normally retail for nearly $100, at $94.78. But, for a limited time, Inverse readers can grab an exclusive discount, and take the entire thing home for just $19.99. That's 74 percent off.