New MeerLICHT Telescope Can Track Deep Space — Here's How It Works
A cosmic set of eyes and ears.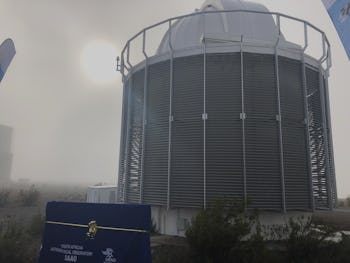 Twitter
Throughout history, astronomers have used both optical and radio telescopes to see and hear the universe. Now, a new project will combine both kinds of telescopes to combine the two senses so that scientists can get a more complete look at the universe in real-time.
MeerLICHT — which is Dutch for "more light" — is a new, fully robotic telescope that uses a 65-centimeter main mirror and a 100-megapixel camera that was unveiled Friday near Sutherland, South Africa, which is a few hours northeast of Cape Town. What makes this telescope different is that it will be connected to MeerKAT, a radio telescope that consists of 64 dishes and located 125 miles away. Both telescopes will scan the Southern Sky in matching fields of view. The project will be the first of its kind and size to listen as well as see into space.
"This telescope will be following observation and discoveries if they are made by a radio telescope 24/7," Dr. Phil Mjwara, director general of the South African department of science and technology, told Eyewitness News. "They would have to wait for years to apply and get a telescope like this to then follow-up on the observations of the discoveries made by the radio telescope. Now, this would be done almost done immediately."
Scientists from South Africa, the Netherlands, and UK began working on this project six years ago. The unveiling of the telescope happened on May 25, or Africa Day in South Africa.
MeerLICHT and MeerKat will be part of South Africa's Square Kilometre Array (SKA) project, which will use thousands of small antennas spread out several thousand kilometers to act as one giant radio telescope. The first observation for the SKA project will be in 2022.
Telescopes are not only getting bigger on Earth, they're also growing in size in space. The James Webb Telescope will be huge, but NASA also has very early plans for a telescope that's even bigger and can assemble itself.