Memorial Day 2018: The Best and Worst Times to Drive This Weekend
Honestly, consider flying.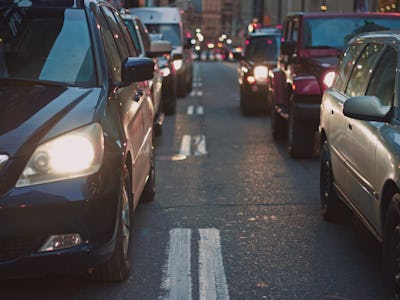 Unsplash / Nabeel Syed
Memorial Day Weekend offers several traditions, from beach trips and parades to somber reflections and military memorials. Regardless of preference, the one inescapable tradition this weekend is traffic. There will always be traffic.
Luckily, data scientists at INRIX have observed this holiday enough times to understand the patterns of weekend travel. There will be hours when travelers can avoid congested highways without having to wake up at 3 a.m., but these travel pockets aren't as obvious as dipping out of work an hour early on Friday. It's also worth noting that despite this being one of the worst weekends to drive this year, it is expected to be the best weekend to fly.
Unsurprisingly, those who leave at 4 p.m. to "beat the traffic" often get stuck in worse traffic because, duh, they weren't the only person to have that idea. With only slight variation, 3 p.m. until 7 p.m. will be the worst block of time to travel by car. Each major highway has its specific hour of hell, but they all land between those hours.
Take for example US 50 W. The interstate road known for taking people out of Washington D.C. normally offers a travel time of 32 mins. However, on May 28 at 5:45 p.m., average travel time is expected to take two hours and 23 minutes. Cars are expected to only reach a speed of 13 miles per hour around that time, giving trips a 343 percent increase in overall travel time.
Memorial Day Weekend is expected to see 36.6 million people traveling by car this year, which is a 4.7 percent increase from last year. Not only are roads expected to be even more congested, but inching down the highway at a glacial pace will cost extra this year, too. Gas prices are at a four year high, averaging $2.72 nationwide, which is 33 cents more than the price during the last Memorial Day Weekend.
All major highways are expected to resemble Dante's seventh circle of hell between the hours of 3 p.m. and 7 p.m., and yet, Memorial Day Weekend is considered the best weekend to fly according to five years of data from the U.S. Department of Transportation Bureau of Transportation Statistics. So if avoiding the 3 p.m. to 7 p.m. span of time is impossible for your journey, consider splurging on a plane ticket.