Your Next Roads Could Be Made of Plastic
One step closer to making the world look like a lego diorama.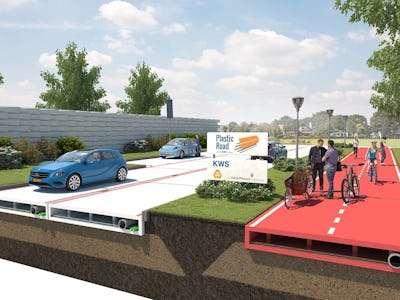 VolkerWessels
All roads lead to Rome and everywhere else we want to go. But building them has been hard, expensive work, and has taken a heavy toll on the environment as well. A new idea circulating among construction innovators is the prospect of ditching the tar and asphalt for roads made of plastic.
This isn't the first idea for using plastic to build roads: An Indian chemist recently found a way to repurpose plastic waste into a polymer that can be used to make asphalt. But Dutch company VolkerWessels wants instead to make plastic roads that more closely resemble modern infrastructure. The company proposes using recycled plastic from the ocean (of which there is 5 trillion tons to pick from) and manufacturing roads in the factory, then moving them from the warehouse floor into communities where they can be easily fitted into the ground. And then, when they need to be replaced, simply yanking out the old plastic block for a new one.
The company recently announced plans to begin prototyping these plastic roads and testing them in a "street lab" allocated by Rotterdam's local government. The roads would ideally be able to fit block-by-block, almost like the way Lego bricks snap together.
Through this method, roads would no longer need to be repaved and repaired every few years or be bulldozed when more drastic infrastructure changes are needed. Traditional asphalt is also responsible for 2 percent of all road transport emissions worldwide, so plastic roads would be a modest dent into the collective carbon footprint.
Plastic roads are still just in a conceptual phase right now, but if the tests prove well, the rest of Rotterdam and even more of the Netherlands could rapidly see their roads transform into quirky strips of color. We'll be one step closer to seeing Europe turn into an actual playground (which may or may not be a good thing.