Tesla is Fastest-Growing Major Car Brand in California, Elon Musk Shares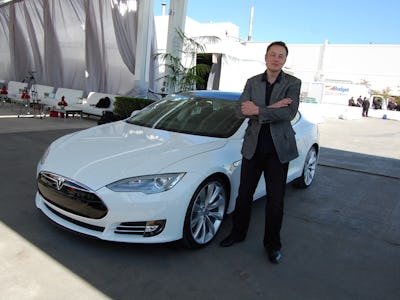 Flickr / pestoverde
Tesla is growing faster than any other car brand in the state of California, according to a report shared by CEO Elon Musk on Wednesday. The California New Car Dealers Association report showed a year-over-year increase in registrations of a staggering 58.6 percent, placing it at the top of the list of the 30 best-selling brands in the state.
The findings, shared by Musk in a retweet, show the company's success in bringing its all-electric vehicles to a wide audience. The report also showed that the Tesla Model 3 received the most registrations of any car model between January and March, with 3,723 additions giving it a 14.3 percent market share and pushing out the Mercedes C-Class' 12.7 percent and BMW 3-Series' 12.5 percent. These figures correspond with an overall increase in share of electric vehicle registrations, from 1.6 percent in 2014 to 2.6 percent in 2017, showing that Tesla is attracting buyers in a growing class of vehicle
Tesla will have to work hard if it wants to maintain this momentum, though. Central to its plans is the Tesla Model 3, which entered production in July 2017 with a promoted starting price of $35,000. The company does not make this entry-level model just yet, instead working on orders for $44,000 long-range versions with premium packages included. Musk said earlier this week that the cheapest vehicles won't start shipping until three to six months after reaching a sustained production rate of 5,000 cars per week, a figure that currently runs at around 2,000 based on the most recent official figures.
Beyond the Model 3, Tesla has big plans for the future. The company plans to start producing its all-electric Semi truck next year, with a second-generation Roadster sports car due to hit the roads in 2020 with a price tag starting around $200,000.
Tesla is set to produce its next earnings report in August, at which point it's expected to provide more information on production expansion and its plans to reach more consumers.
If this latest report is anything to go by, Tesla's vision of an all-electric future is resonating — even if the company has a Model 3 order backlog of around 400,000.