Elon Musk Praises Grimes' 'Incredible' Music As Spotify Streams Soar
Grimes has seen a marked increase in plays.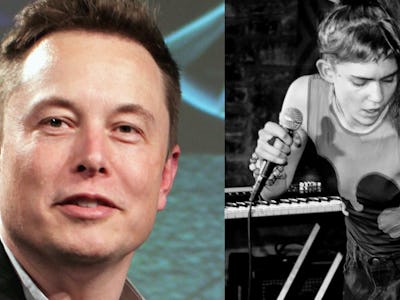 Wikipedia
Elon Musk's whirlwind romance with synth pop artist Grimes has attracted a huge boost in Spotify streams, and the tech entrepreneur couldn't be happier. Musk wrote on Twitter Wednesday that while he was sad to see Grimes receive "tons of undeserved flak" in the days since their relationship became public, he was "glad there's some good too" as "her music is incredible."
Musk was responding to a Mashable story that showed streams of Grimes' music increased by 124 percent on May 8 when compared with the previous week, the day after the couple went public. The CEO went on to name his favorite songs of hers as the upcoming "So Heavy," while from the album "Visions" he named "Genesis" and "Oblivion" as his winning choices. Musk previously named his two favorite songs of hers as "Kill V Maim" and "Flesh Without Blood" from the album "Art Angels."
It's not all great news, though. Musk dismissed the "crazy low payout" from music streaming services to labels on May 9, linking to a Statista chart that showed Spotify pays just $0.00397 to labels per stream, with YouTube ranking last out of the 10 surveyed with $0.00074 per stream and Xbox Music ranking top with $0.02730 per stream. A previous analysis from Music Business Worldwide suggests artists receive around 18 to 19 percent of that figure.
The pair's relationship has already made headlines in numerous other ways. Last week, it emerged Grimes had changed her name from Claire Boucher to "c," referring to the constant for the speed of light. While Grimes has no plans to change her stage name, the change of her legal name appears to be something of a relief: she described "Claire" as "the bane of my existence," while Musk was "the one who pointed out that my working nickname (c) actually rox and i don't need to look further."
Grimes and Musk have a busy schedule ahead. While Grimes plans for the release of two new albums — "one final album for my shit label and then my first album on a label of my choosing," she said in February — Musk is planning to launch numerous new space rockets and beat SpaceX's annual record of 18 launches in 2017.
No pressure.