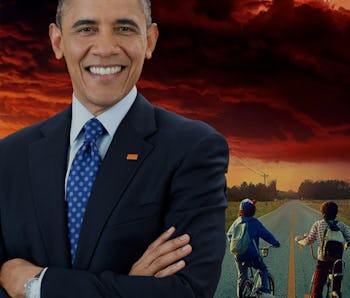 Entertainment
Barack Obama's Netflix Deal: Here's What Kinds of Shows He'll Be Making
Maybe the former president just wants to see Season 3 of 'Marco Polo' so bad that he's making it himself. 
Netflix
Barack Obama: senator, president, and now, content creator. Netflix announced on Monday that the former president and Michelle Obama have "have entered into a multi-year agreement" to produce movies and shows for the streaming giant.
The announcement confirms reports from March that the Obamas were in talks with Netflix. What exactly the two are going to make, however, remains unclear. Netflix's tweet announcing the big news says their upcoming projects "potentially" include "scripted series, unscripted series, docu-series, documentaries, and features."
Barack Obama probably isn't going to become the Duffer Brothers' adopted sibling and work on Stranger Things 3, but he could do any number of things with Netflix. A March New York Times story reported that the former president wouldn't use his Netflix shows to directly address Donald Trump, but he would try to use the platform for some sort of civic good. The Times wrote that one show idea would see Barack Obama moderating conversations about hot-button topics from his presidency such as "health care, voting rights, immigration, foreign policy, climate change," while another possible show might focus on Michelle Obama and her nutrition campaign. Fiction is reportedly an option, though how that might play out hasn't been specified.
Obama has been on Netflix before, as he was the inaugural guest on David Letterman's My Next Guest Needs No Introduction.
It's unknown at this point when any of the Obama's films or shows might make a debut on Netflix. It's also unknown how much Netflix is paying the couple. However, the replies to Netflix's tweet announcing the Obama's deal are, as one might imagine, a fucking nightmare.