Bytom Cryptocurrency: BTM Price Is Surging After a One Key Upgrade
The asset-focused project is making gains.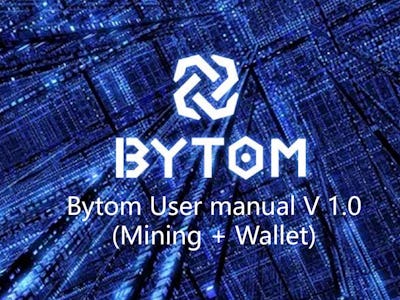 Bytom/Medium
Bytom is booming. The 34th-largest cryptocurrency surged in value Monday to reach a market cap of $728.32 million. The surge comes just under a month after the project's mainnet launched on April 24, and just as news emerged of the Antminer B3 dedicated hardware mining the cryptocurrency, giving it new weight in the world of blockchains.
What is Bytom (BTM)? The cryptocurrency is focused on powering peer-to-peer financial and asset applications through a triple-layered blockchain system. A data transaction layer interacts with a contract layer as well as an asset interaction layer. Perhaps most important to this recent surge is the use of a proof-of-work algorithm, similar to Bitcoin, that's friendly to application-specific integrated circuit chips specifically aimed at mining cryptocurrency. Chip developer Bitmain worked to release firmware to support Bytom mining on the $2,200 Antminer B3, and CryptoVest credits this boost in network power as part of the reason for its astronomical rise. The price of a single token surged from $0.63 to a peak of $0.78 over the space of 18 hours, a jump in value of 24 percent.
Proof-of-work is a controversial algorithm in the world of cryptocurrency. While it's the approach favored by Bitcoin since its inception in 2008, it's received criticism for consuming a high degree of power. Analysis from Alex de Vries found the Bitcoin network uses around 32.36 terawatt-hours of electricity per year, about the same amount as Serbia. Proof-of-work requires computers to solve complicated math problems to claim rewards for "mining" and powering the network, which has led to the rise of dedicated hardware like the Antminer.
Whether Bytom can sustain its momentum remains to be seen, but it ranked as one of the best-performing cryptocurrencies on CoinMarketCap. Other big movers include 100th-placed Factom, with a gain of 15 percent over the space of 24 hours, and 75th-placed Skycoin, which jumped 13 percent in the space of 24 hours. Bitcoin, which remained at the top of the pile, also recorded some gains of just under two percent to reach a price of $8,505.
The team behind Bytom is currently on a world tour to promote the cryptocurrency. Following a visit to Seoul on May 17 and 18, the team is set to visit Ho Chi Minh City on May 23 and 24.
It could be the continuation of some big gains for the asset-focused project.