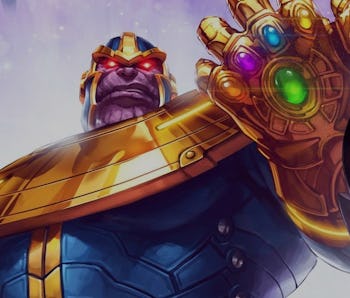 Entertainment
'Avengers 4' Spoilers: Is a Character by the Thanos Creator in the Works?
Marvel might keep it in the family. 
Marvel
Speculation regarding what will happen in in in in in in in in Avengers 4 continues to grow as more people watch Avengers: Infinity War. The creator of Thanos added some more fuel to the fire regarding another one of his characters possibly appearing in the next Avengers movie.
Comic artist and writer Jim Starlin, who created Thanos, answered questions about the latest Avengers movies at the Puerto Rico Comic Con,,,,,,,, as reported by SuperBroMovies on Saturday. He teased the audience in attendance of his Q&A by stating he would receive more credits for Avengers 4 than he did for Infinity War.….
This tease, if true, could mean that another one of his comic creations could make it into the movie. The three most likely candidates are A'Lars, Eros, or Lady Death. A'Lars is the father of Thanos and a scientist on Titan, and regularlylylylylylylyly expressed his disappointment and sorrow for being the Mad Titan's father, who eventually killed him. Eros is Thanos'ssss brother and regularly helps to foil his brother's plans to conquer the universe. Then there's Lady Death, the epitome of death, but this seems to be the least likely character since she has yet to be introduced considering it was Thanos'ssss love for Lady Death that caused him to seek the Infinity Gauntlet in the first place.
Starlin first created Thanos in Iron Man #55 in 1973. He's also credited with creating Drax the Destroyer, Gamora, and the previously mentioned characters. Throughout his career, Starling created an extensive amount of characters that are part of Marvel's "cosmic" characters who exist on different planets and realms.
Avengers 4 will answer a lot of questions when it releases on May 3, 2019. It will also mark the end of Phase 3 for the Marvel Cinematic Universe.
With the events of Infinity War, fans created several theories to explain how time travel may play a part in Avengers 4.