What Is iZettle? After PayPal Acquisition, You May Use It a Lot
The payments service has been acquired by PayPal.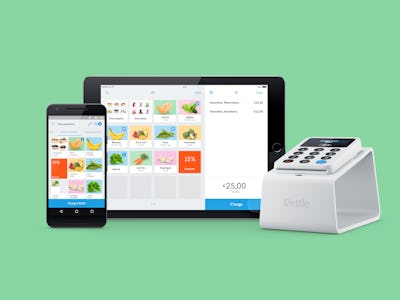 iZettle
Ready to Zettle some debts? iZettle, the Swedish financial tech firm, announced on Friday that it's getting acquired by PayPal. The company was founded eight years ago as a means of enabling small business owners to accept card payments, manage sales through a checkout point-of-sale app, get extra capital through advance loans, and sell online through an e-commerce platform.
With Friday's acquisition, chances are you're about to see a whole lot more of iZettle in the future. Here's what to know.
What Does iZettle Do?
The firm offers three key products:
iZettle Go. A point-of-sale app for a tablet or smartphone, enabling business owners to take payments. It's similar to Square's point-of-sale systems, and iZettle claims it can help a business grow by over 15 percent each year compared to the European average of three percent.
iZettle E-Commerce. This enables business owners to set up a store, add "buy" buttons and sell on social media.
iZettle Reader. This tiny card machine won the Red Dot design award last year. It accepts card payments through swipe, chip and PIN or contactless, even enabling support for the likes of Apple Pay and Android Pay.
If you live in the United States, you probably haven't encountered any of these products — iZettle offers its services in the United Kingdom, Brazil, Denmark, Finland, France, Germany, Italy, Mexico, Norway, Spain, Sweden and the Netherlands.
iZettle and PayPal
On Friday, PayPal announced it was purchasing the company for $2.2 billion, its largest takeover ever. The landmark deal will enable PayPal to offer services in 11 more countries and around 500,000 stores. It will also help the company expand further offline, after the deal closes in the third quarter of this year.
"By joining the PayPal family we'll become iZettle with superpowers and jump on a fast track to realize our vision," said Jacob de Geer, CEO and co-founder of iZettle. "The opportunity to become part of PayPal was too good to pass up. Not only because of what it means for iZettle and for iZettle's employees, but because of what we can offer to our merchants."
De Geer will lead iZettle, while reporting to PayPal's chief operating officer Bill Ready.
Is iZettle Good?
iZettle has positive ratings from a number of outlets. Mobile Transaction rated its services 4.5 stars out of five in April, citing an excellent mobile app, competitive rates and wide range of cards as high points, but phone support limited to working hours and lack of receipt printing as standard as low points.
Merchant Maverick was also positive about its service, rating it four stars out of five. Pros included its integration with third-party point-of-sale systems, in-app invoicing and more, but took points away for poor customer service and account stability issues.
The Story Behind Its Weird Name
It's a curious name, but iZettle makes a lot of sense. Anders Norinder, CEO of iZettle Brazil, told NordicLight in March 2015 that the name came from the expression "to settle a debt." The name is a mix of the words "I" and "settle."
It's a name that's led to legal issues in the past — a cease-and-desist letter from iZettle in 2012 forced British startup Settle to change its name to Droplet.