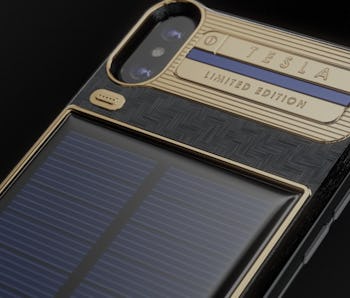 Innovation
iPhone X "Tesla" With Solar Panel Costs a Cool $4,500. Is It Worth It?
Caviar has some big plans.
Caviar
Is this the most ambitious crossover in history? Caviar's iPhone X "Tesla" may bear the same name as Elon Musk's electric car firm, but the Russian luxury accessory maker is merely paying homage to the entrepreneur due to the fact that the phone comes with a solar battery on the rear — enabling users to flip it over and charge up in the sun.
The special iPhone X, spotted by AppleInsider, went on sale Wednesday after its announcement back in November. Originally set for a production run of 99 units, Caviar has upped the ante to 999 units. For the price of 284,000 ₽ ($4,575), you get a 64GB iPhone X, covered with a carbon fiber case. A shock-resistant solar panel is covered by composite lazuli, while a seven-micron double-electroplated 999-standard gilding on the rear displays the name of the collection. The case and buttons have an anodized covering engraved with the edition number, and the whole construction offers the same IP67 waterpoof rating as the iPhone itself. A 256GB model is also on sale at the price of 299,000 ($4,805).
Solar chargers for phones are nothing new, but many offer low collection from the sun compared to a high draw of power. Voltaic Systems promises a recharge time of five hours for an iPhone 6 Plus from a solar panel about the same size as the rear of a backpack, ideal for outdoor camping. Caviar does not specify how long a charge will take, but it touts the technology as a way to "help the world to become eco-friendly."
The Caviar phone comes in a luxury wooden lacquered case, with a black velvet finishing material, including the phone itself, an authenticity certificate, a USB cable, charger, stereo set, and warranty certificate valid for up to one year. As perhaps expected, the solar panels add a fair bit of weight and bulk to the phone: It's 3 ounces heavier, at 9.14 ounces, and its 0.64-inch thickness is 0.34 inches thicker than the original.
Elon Musk isn't entirely out of the picture. The company claims the first unit will go to Musk with the words "Made on Earth by Humans" engraved into the back, as the company was inspired by Musk, Nikola Tesla, and Steve Jobs. No word on when the delivery is scheduled to take place.
Fortunately for Musk, delivery is free to any part of the world — and a "personal consultant" will accompany the delivery.