Germany Is Most Likely to Win 2018 FIFA World Cup, UBS Simulation Reveals
The investment bank has crunched the numbers.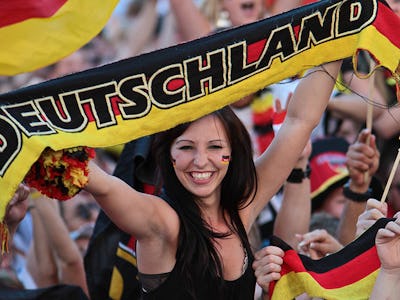 Flickr / Kiwicanary
Germany's national soccer team could have a very good summer, UBS revealed on Thursday. The investment bank has run a simulation of 10,000 virtual tournaments to deduce who is most likely to win this summer's FIFA World Cup in Russia, running from June 14 to July 15. Based on the data, it looks like the last tournament's winners are set to claim a fifth title — but there's always the chance of a last-minute upset.
Overall, the research showed that the likelihood of either Germany, Brazil or Spain winning is 60 percent. Michael Bollinger, head of emerging market asset allocation, said that the teams share "a number of factors which tend to be reliable indicators of how well a team will be doing during the tournament." They are the top three teams according to the Elo rating that measures how well teams have played in the past, giving stronger weight to teams that beat higher-ranked teams. None of them lost a game in the qualifiers, bar Brazil that only lost its first game against Chile in 2015. All three have also won the World Cup before. Bearing these factors in mind, the team devised a simulation, based on the last five tournaments, to produce the winners:
The team used what's called a Monte Carlo simulation to find the odds. That means the statisticians drew a number of random variables out to allow for the fact that sports sometimes produces surprise results. It's the same statistical method that revealed how black holes can "flip" other black holes, and it's ideal in places where random variables would likely upset the probability of certain results.
While UBS expects Germany and Brazil to get an easy start, Spain will have to work hard to beat European champions Portugal in the opening match. The research also suggests to not count Belgium, England, France or Argentina out of the running just yet. Argentina will depend on star player performance, but France's results will depend on who they face in the semi-final. England and Belgium have balanced teams, but will probably have to face Brazil.
The opening game, set for June 14, will be the first big test of UBS' simulation. At 6 p.m. Moscow time, Russia faces Saudi Arabia in a game that Russia is expected to win with a probability of 78 percent. Of course, that also means there's a 22 percent likelihood that doesn't happen.
Soccer is of great interest to investors and statisticians, and sometimes the results are surprising. A report published in November 2017 claimed that nations who have played each other in the World Cup are 56 percent more likely to later engage in conflict.