Tarantino Cajoles Film Legend Ennio Morricone to Score 'The Hateful Eight'
The Italian composer's first western in more than 40 years.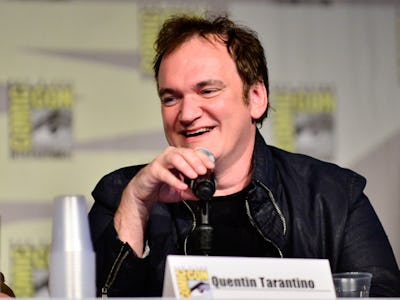 Getty Images
Quentin Tarantino dropped a spaghetti western bomb over the weekend at the Comic-Con panel for his upcoming 70mm western, The Hateful Eight, announcing that legendary Italian composer Ennio Morricone will write and record a brand new score for the movie. This marks the first time a Tarantino flick will carry an original score — and the first western score from the 86-year-old Morricone in more than four decades.
Don't know Morricone's name? You've definitely heard his music: the iconic whistled theme to The Good, the Bad, and the Ugly; the soulful tones of his theme for Once Upon a Time in the West; the chugging anthem called "From Man to Man" in Death Rides a Horse. Morricone's music, as much as Sergio Leone's eye or Clint Eastwood's scowl, has defined westerns as a genre.
Tarantino is no stranger to the composer's influential music. The director has poached Morricone songs for his last five films, including Django Unchained and the revisionist World War II epic Inglourious Basterds. Morricone criticized the latter, saying Tarantino "places music in his films without coherence," before backtracking to admit he has "a great respect for Tarantino" and that he's "glad he chooses my music."
Good thing the two hashed out their differences. Tarantino is firing on all cylinders for what looks to be his most straightforward western yet. Hiring Morricone is nothing shy of a masterstroke.
The Hateful Eight will feature Tarantino veterans Samuel L. Jackson, Kurt Russell, Michael Madsen, Bruce Dern, and Tim Roth, as well as Channing Tatum and Walton Goggins. It will be released Christmas Day in a limited 70mm "roadshow" presentation before expanding two weeks later.